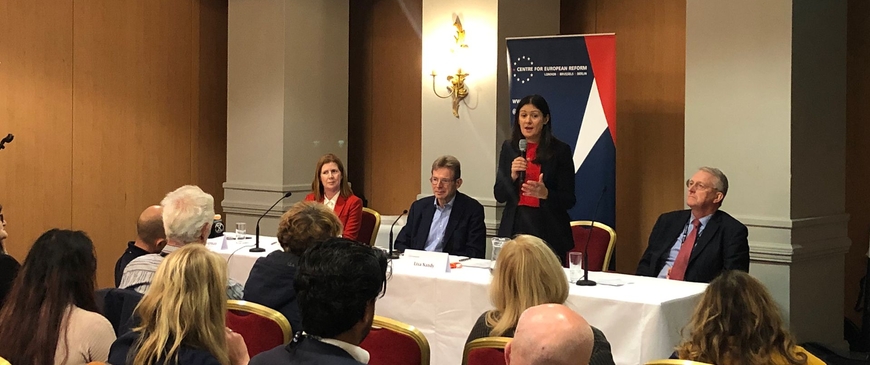 Labour thinks Boris Johnson might trigger article 16 to distract from fuel and food shortages
Baroness Jenny Chapman, who leads on Brexit for Labour in the House of Lords, said she worried the government will be tempted to suspend parts of the protocol, triggering a new diplomatic row with Brussels and plunging Northern Ireland into greater uncertainty, to divert attention from ongoing reports of labour shortages and everyday items like food and petrol running out. 
"The government is in a really sticky situation at the moment and it's not enjoying the headlines about people queueing at petrol stations," she told a fringe event hosted by the Centre for European Reform at Labour's conference in Brighton.
"They will not enjoy the fact that Labour, against everyone's predictions, is having a good conference," she continued.  
"Keir will give a great speech tomorrow and people will like it. Polls are tightening.
"I am ashamed to say this about our government, but I think this all makes it more likely that it will trigger Article 16.
"They could take other routes, but they like the drama of it and they will seek to use it for their own party political advantage. "That's exactly how they've managed these negotiations for a very long time."
...Speaking at the same event, Shadow Foreign Secretary Lisa Nandy said triggering Article 16 would be "deeply unhelpful" and urged the Prime Minister to "dial down the rhetoric".
"We should approach the very real challenge we now have with the Northern Ireland Protocol with some pragmatism, creativity and flexibility," Nandy said.
Also in attendance was João Vale de Almeida, the EU's ambassador to the UK, who said he hoped "conditions will be created very soon" for the two sides to reach an agreement on how the post-Brexit treaty for Northern Ireland is implemented.
He rejected suggestions that the EU was taking a rigid approach to the province, however.
"Our approach has not been rules, rules, rules," he said.
"It has been rules minus, rules minus in the sense that we are adapting to the particular situation in Northern Ireland and we have shown enormous flexibility."