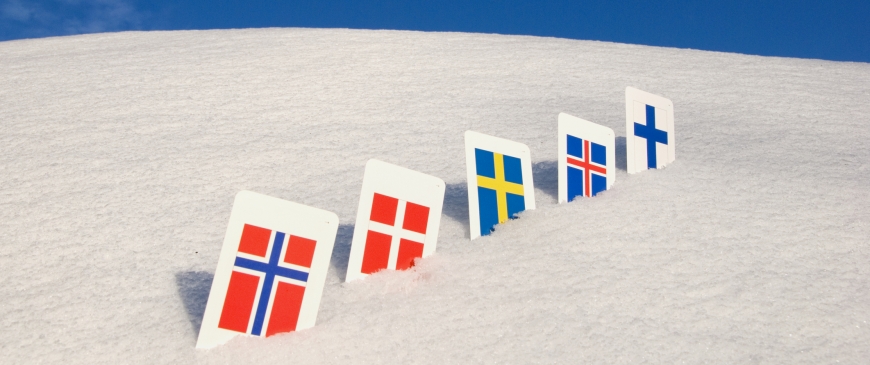 We are all Nordic now, or are we?
The EU drew up its Lisbon reform agenda in 2000 with the thinly disguised goal of catching up with the US. But the idea that Europe should strive to adopt 'Anglo-Saxon' capitalism is abhorrent to those who cherish Europe's more extensive welfare states. A much more appealing blueprint can be found within the EU itself: the Nordic countries are dynamic, rich, modern – and fair. Gone are the days when the more sluggish EU countries glanced enviously across the Atlantic. Now they look north for lessons. But imitating the Nordics is a lot more difficult – and perhaps less advisable – than it might seem.
To start with, the people up north dispute that there is a 'Nordic' model. Swedes and Danes say that they have different business cultures, and they specialise in different areas: Denmark in services and niche engineering products, Sweden in making high-tech goods, cars, and fashionable clothes and furniture. Finland's industry is dominated by Nokia, the world's biggest mobile phone producer. Many of Iceland's 300,000 inhabitants live off fishing. Norway is the world's third biggest oil exporter.
But looked at from Italy, Poland or Portugal, the Nordics – at least the three that have joined the EU, Denmark, Finland and Sweden – have a lot in common. Their growth rates of GDP and productivity easily outstrip the EU average. State budgets show a healthy surplus, as do trade balances. Employment levels in Denmark and Sweden are well above the Lisbon target of 70 per cent, and Finland is getting there. Bureaucrats are diligent and non-corrupt. Infrastructure is superb. On many indicators of innovation, education and research, the Nordics do better than the US and the UK. And unlike these economies, the Nordics have high levels of equality and little poverty. In international league tables – from competitiveness to quality of life – Sweden, Finland and Denmark are always in the top ten, if not the top five. In the CER's annual Lisbon scorecard, one or two of the Nordics have always been singled out as 'heroes'.
No wonder governments across the EU want to copy the Nordics' success. The wish to learn from Finnish education, Swedish research policy and Danish labour markets now drives the Lisbon agenda. But what are the secrets of the Nordics' success? Left-wingers highlight the importance of generous and universally available social security, strong but conciliatory trade unions, child-friendly policies, and investment in education and retraining. Liberals point to a long tradition of free trade, radical deregulation of telecoms, energy and other sectors, flexible labour markets (in particular in Denmark, although Finland and Sweden are also more liberal than the big eurozone countries) and a gradual but noticeable reduction in taxes and social benefits since the 1990s.
In a recent report on Nordic economics, the European economic advisory group, an expert grouping, asks whether it might be a combination of factors that matters. Big investments in new technologies paid off because Danes, Finns and Swedes are skilled enough to use them. High payroll taxes do less damage because co-operative trade unions take them into account when they agree on wage levels. And so on.
If this is so, copying the Nordic success may not be that easy. Take the popular Danish model of flexicurity as an example. It combines lax hiring and firing restrictions with generous unemployment benefits and ubiquitous job-search and retraining assistance. The result is a highly dynamic labour market (800,000 out of three million Danish workers change jobs every year) with an unemployment rate of only 4 per cent. Despite this low rate, the bill for active labour market policies amounts to almost 2 per cent of GDP. For countries such as Poland or Germany, with millions of unemployed people, the upfront costs of copying Denmark's retraining and job creation schemes could be prohibitive.
Closer scrutiny of the Nordic success also throws up features that are not worth copying. Sweden's high official employment rate of 74 per cent includes those who are on parental leave, have reported sick (a shockingly high number in such a wholesome country) and are taking part in job creation and retraining programmes. Perhaps one million Swedes (in a labour force of five million) do not actually work. McKinsey, the consultancy, reckons that the real unemployment rate in Sweden could be twice or three times the officially reported 6 per cent. High taxes have made big companies such as Ikea relocate their headquarters outside Sweden. Entrepreneurs are stifled by labour market and other regulations. All Nordic countries struggle to integrate, and find jobs for, a growing number of immigrants.
Economists also warn that the Nordics' success owes much to one-off factors. First, all three countries went through a rough patch in the 1980s (skyrocketing unemployment in Denmark) or in the early 1990s (financial instability in Sweden, collapsing trade between Finland and the Soviet Union). The ensuing sense of crisis made radical reform possible. Second, the real value of the Swedish and Finnish currencies fell by one-third during the 1990s, giving a massive competitive boost to exporting industries. Third, in the case of Sweden and Finland, EU accession meant removing remaining trade barriers and more competition. Moreover, the deregulation of industries from banking to energy fuelled productivity growth. However, if the Nordics want to sustain their cherished welfare systems in the face of ageing populations, they need to find ways of raising employment even further or keeping productivity growth at recent high levels – a big task because they start from such high levels.
Given that even the Nordics have to keep changing, they may benefit from having a look around Europe. How do Britain and Spain try to integrate immigrants? How has the Netherlands reduced the number of people on disability benefits? What lies behind Ireland's high productivity growth? However, while government delegations from across the EU regularly go north, there are few fact-finding missions travelling the other way. What a pity. The Lisbon agenda has something to offer to all EU members, even the current star performers.
Copyright is held by the Centre for European Reform. You may not copy, reproduce, republish or circulate in any way the content from this publication except for your own personal and non-commercial use. Any other use requires the prior written permission of the Centre for European Reform.