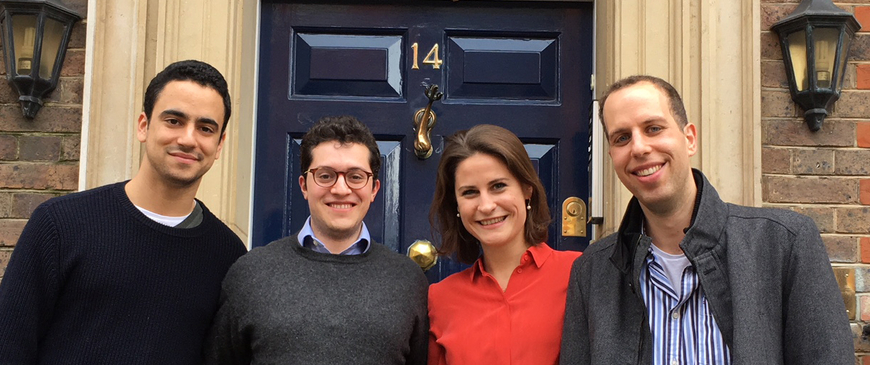 The Clara Marina O'Donnell fellowship
The Clara Marina O'Donnell fellowship was established in memory of Clara, who died of cancer at the age of 30 in January 2014. She worked as a researcher at the Centre for European Reform, mainly covering foreign and defence policy, for seven years. 
This fellowship programme is managed by the Brookings Institution (the Centre for the United States and Europe, where Clara was based for part of her time with the CER); Cambridge University (the Department of Politics and International Studies, where she took a Masters in International Relations); King's College London (the Department of European & International Studies, where she was an undergraduate) and the CER.
We are looking for a bright, enthusiastic researcher to work at the CER in London. Applicants should be in the early years of their career. At a minimum, they should have completed their undergraduate degree by the start of the fellowship, though previous successful applicants have come to us after their Masters. They should have an interest in foreign, security or defence policy, broadly defined.
The fellow will have the opportunity to carry out and publish their own research projects, and to contribute to the projects of other colleagues. In the past, fellows have also published opinion pieces in major newspapers and contributed comments to international media outlets. Fellows will have the opportunity to immerse themselves in the CER's broader work and to participate in its events, where they will meet influential policy-makers and policy analysts from across Europe. They may also have to take on some administrative tasks, though that would not be main part of the job. They will spend two or three weeks during the fellowship working in the CER's Brussels office, gaining an insight into EU policy-making. The fellow will spend an expenses-paid week in Washington DC at the Brookings Institution. They will also be expected to work with Cambridge and Kings, for example by taking part in their seminars.
The fellowship will start in October 2023, last for six months and be non-renewable. The fellow will be paid the 'London Living Wage', currently £11.95 per hour, for a 35-hour week. CER will also pay an 8 per cent contribution into a pension fund.
Applicants should submit to their application on the CER website by Tuesday 11 April at 23:00 (London)/00:00 (Brussels). Please note interviews will take place in mid-late May via videoconference.
1. a covering letter of no more than a page, explaining why they would be suitable for this fellowship;
2. a CV;
3. an article of no more than 1,000 words on 'Why are so many of the EU's neighbours unstable, and what should the Union do about it?'
Comments from previous fellows: 
Yehuda Ben-Hur Levy, 2014-15
My time at the CER as the first Clara Marina O'Donnell Fellow was one of the most stimulating and challenging experiences of my career. The CER has a unique nature, which stems from the intellectual freedom it provides to its researchers, together with the high standards of research and fact checking CER colleagues demand from each other. Thanks to this formula and the guidance from brilliant colleagues, I was able to learn in less than six months how to write for a think-tank and present a persuasive argument to policy makers. These are precious tools that will be of use for the rest of my professional career. 
Sophia Besch, 2015-16
The fellowship for me was a great opportunity to learn about the work of think-tanks through events, travel and most importantly the day-to-day work of researching and writing. The CER is also uniquely placed to work on the UK- EU relationship, and every fellow will get the chance to be a part of the debate currently ongoing about the future of the EU.
Luigi Scazzieri, 2016-17
The fellowship is an immensely enjoyable and enriching opportunity to gain first-hand experience in a leading European think-tank. I was able to carry out my own research and also had the opportunity to give talks, publish in newspapers and appear on radio and TV. Being able to spend time in Brussels and DC was also eye opening, and allowed me to gain an insight into policy-making on both sides of the Atlantic. Above all perhaps, it was fascinating to immerse myself in a whole range of policy debates on Europe's future.
Noah Gordon, 2017-18
The Clara Marina O'Donnell Fellowship is a great opportunity for a young person interested in policy. While it was wonderful to attend the CER's high-level conferences and have my work published by international media outlets, the most important thing for me was how the CER approaches writing. There is a uniquely collegial atmosphere at the think-tank: a fellow will not only read and edit the work of all their senior colleagues, but also go through an exacting editing process that brings their own work up to CER standards. It can be tough, but it's an invaluable experience, wherever you go in your later career.
Leonard Schuette, 2018-19
As a Clara Marina O'Donnell Fellow, you can have your cake and eat it. The fellowship combines the best of both academia and journalism, by offering an intellectually stimulating environment to conduct independent research, opportunities to travel to Brussels and Washington, and the possibility of providing comments to the media on topical foreign policy issues. I particularly enjoyed having access to decision-makers and thus getting the sense that my work was having a real impact.
Khrystyna Parandii, 2019-20:
The fellowship gave me a unique experience, working alongside a stellar team of researchers in one of Europe's leading think-tanks. I learned a lot from the CER's rigorous editing process, built up my foreign policy expertise and expanded my professional network among London's dynamic political and think-tank community. My week-long visit to Brookings provided me with policy insights from another side of the Atlantic, and I used my time at the CER's Brussels office to meet EU officials and immerse myself in the EU expert community.
Katherine Pye, 2020-21:
Despite working from home for the duration of my fellowship, my time at the CER was exceptionally rewarding. Clara Marina O'Donnell fellows are given considerable freedom to choose their own research topics and can draw on the vast expertise of the CER's researchers and their networks. Though I was unable to go to Washington DC, I frequently connected online with fellows at Brookings and many of them put me in touch with their professional networks in the US. The opportunity to have original research published and experience with the CER's rigorous editorial process is invaluable for any aspiring policy analyst.
Megan Ferrando, 2021-22:
As for my predecessors, being a Clara Marina O'Donnell fellow was an immensely rewarding experience. Thanks to incredible colleagues, all experts in their field, I learned the ways of working of a leading think-tank while growing both within and outside my areas of expertise. Importantly, the fellowship opened all the doors I sought to open: I discussed my research with analysts and policymakers in London, Washington and Brussels, and had the opportunity to present my research at leading UK universities and in media outlets. Being a Clara fellow gives you an invaluable network and skills for the rest of your career.  

Helmi Pillai, 2022-23:
The Clara Marina O'Donnell fellowship has been truly an incredible experience. It has allowed me to work with experts in a leading think-tank. The fellowship has also given me the opportunity to travel to Brussels and Washington DC and attend fascinating events with world-class speakers. Most importantly, I have been able to research and write about the topics I am most interested in. Working for the CER has been a fantastic start to my career, and I would highly recommend it to anyone who wishes to work in foreign policy.