Stephen Tindale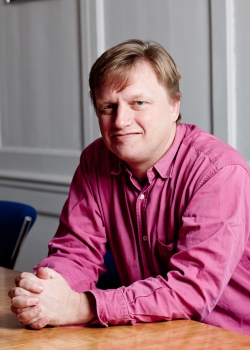 Stephen Tindale, who worked at the CER as a researcher on environmental policy from 2010 to 2015, took his life on July 1st, aged 54. Stephen was one of Britain's foremost thinkers on green issues, but he also cared about many other subjects and enjoyed an astonishingly varied career. He was a Foreign Office diplomat, a think-tanker at the Fabian Society and the Institute for Public Policy Research, a special advisor to Labour politicians, executive director of Greenpeace UK (from 2000-05), head of communications and public affairs at the UK arm of RWE (a large German energy company), an author, the founder of the climateanswers.info website and a consultant to the Swansea Bay tidal lagoon project.
Stephen was a very original thinker who was always happy to challenge received wisdom. It was brave for an environmentalist to come out in favour of nuclear power, which he did after leaving Greenpeace. He became a champion of thorium-based nuclear energy, since it would produce less harmful waste than the more conventional sorts (and he wrote a fine CER paper on that subject). Later on he supported genetically-modified crops, because the scientific evidence suggested they were harmless. And recently he was even sympathetic to fracking as a way of extracting shale gas.
He took some brickbats for such apostasy. But nobody who knew Stephen could doubt how much he cared about the environment and, in particular, climate change. He did a lot to shape New Labour's thinking in the 1990s, first as special advisor to Chris Smith (now Lord Smith) in opposition, and then as special advisor to Michael Meacher in the first three years of Tony Blair's government. Stephen had a special interest in 'combined heat and power' projects, small-scale initiatives that use the energy from power generation to heat water. He co-authored a book with Prashant Vaze on 'Repowering communities: smallscale solutions to largescale energy problems', in 2011. 
Stephen brought tremendous expertise to the CER, writing papers on subjects such as carbon capture and storage, the EU's emissions trading scheme and its role in international climate talks. He authored policy briefs on the EU's role in promoting greater energy efficiency, encouraging renewables and fostering decarbonisation. He also published a memorable paper on the green benefits of EU membership. But he wrote more widely on other subjects, too, such as the reform of the EU's budget and farm policy. Indeed, he cared about Europe almost as much as he cared about the environment. Last year he took an active role in the EU referendum campaign.
Although Stephen went through several periods of struggling with depression, for much of his life he was happy and relaxed and engaged with the things that interested him. Stephen's many enthusiasms stretched far beyond his work, to Tottenham Hotspur football club, hill-walking and classical music. He also had an enormous number of friends, to whom he was very loyal. At the CER we shall remember Stephen's quiet, calm and reflective manner. He made a particular effort with new members of staff, helping them to feel at home. Our thoughts are with his family, including his two teenage children.
Charles Grant