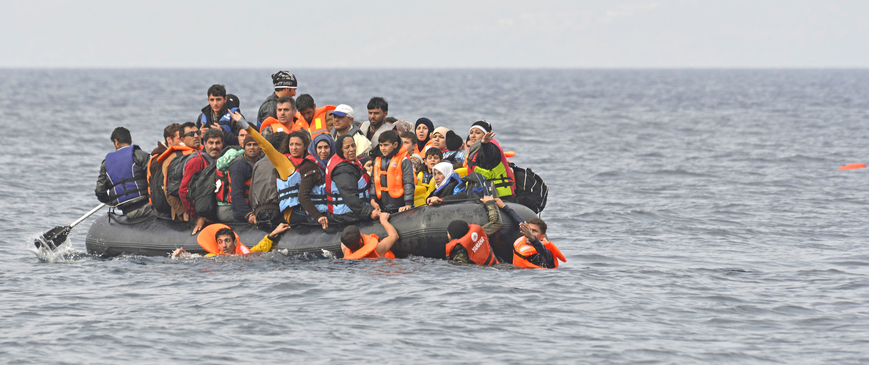 How the EU and third countries can manage migration
The EU's response to migrants crossing the Mediterranean is shifting from internal reforms to deals with countries in Africa and Asia. This approach has potential pitfalls and upsides.
The sharp rise in the number of migrants crossing the Mediterranean from Turkey to Greece in 2015 threw the EU into disarray. By closing the Balkan route and striking a deal with Turkey, the EU reduced the number of arrivals in Greece. But until the summer of 2017 the EU found it much harder to reduce the numbers crossing from Libya to Italy. And it has struggled to share the administrative and political costs of migration between its member-states, largely leaving Greece and Italy to cope on their own.
The EU's initial ad hoc response to the migration crisis is slowly being formalised into a strategy to curb migration by using foreign policy to prevent migrants from crossing the Mediterranean. The EU's recent dealings with Libya, which have been led by Italy, illuminate the compromises that the EU must make with third countries to curb migration. While the EU has been successful in reducing flows, by providing money to Libya and training the country's coastguards, this deal is fragile and has come at the cost of migrants' human rights.
This paper evaluates the policy instruments the EU has at its disposal in its dealings with countries of origin and transit: return agreements with countries of origin; development aid; and screening centres in third countries to determine eligibility for asylum.
The EU's attempts to strike readmission agreements with countries of origin have had limited success. Countries of origin are often unwilling to strike such deals, as this may reduce the flow of remittances which are a significant source of national income for many. If the EU could open up legal channels for migration through visa programmes, scholarships and work permits, there would be less need for readmission agreements, which will in any case only be struck if the EU provides additional development funding to source countries. EU aid could be paid in instalments and returns could be limited to future arrivals only, so that states would not have to worry about a sudden spike in returns as people already in Europe are sent back to their country of origin.
Attempts to enlist the co-operation of third countries will continue to come at the expense of human rights unless the EU improves conditions in detention centres in third countries, and provides other forms of aid to migrants stranded by the closure of the EU's borders as well as those of third countries.In the short term, the EU should improve conditions in Libyan reception centres and push harder for peace in Libya.
The EU also needs a long-term strategy to reduce incentives to migrate. In the long run, migration can only be reduced by ensuring security and economic opportunities in countries of origin. But the number of people attempting to reach Europe will continue to increase until income differences between sub-Saharan Africa and EU member-states fall substantially. And a 'more for more' approach – more aid in exchange for more co-operation on migration – will require the EU to loosen its purse strings considerably: the EU's migration policy should not have a distorting effect on development aid, whose main objective should continue to be poverty reduction. European aid often makes up a small proportion of the GDP of countries of origin and transit.
Calls to process asylum applications outside the EU, as Australia does, are unrealistic. Centres run by international organisations are unsuitable for 'mixed' migration flows, with refugees and economic migrants travelling together, because these organisations cannot detain people. And the EU itself cannot process asylum claims in third countries, since it would not have the authority to distribute refugees to member-states, who all have their own asylum laws. Progress towards a common European asylum system is slow, with member-states unwilling to share sovereignty.
View press release here.
Copyright is held by the Centre for European Reform. You may not copy, reproduce, republish or circulate in any way the content from this publication except for your own personal and non-commercial use. Any other use requires the prior written permission of the Centre for European Reform.