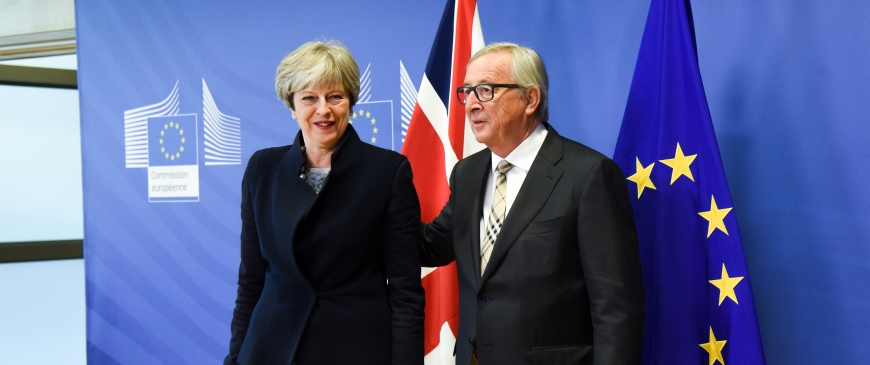 The case for a slow-motion Brexit
Yesterday was the most chaotic day yet in the Brexit negotiations, with Theresa May caught out on the Irish border issue, unable to move without isolating the DUP and hard Brexiters on her backbenches and in the cabinet. Whether a solution will be reached remains to be seen. But the unfolding chaos drilled home a lesson that has been apparent for some time: Brexit is highly complex, and requires a slow pace so as to provide maximum certainty.
After mounting pressure earlier this year, May conceded that she would seek a transition period to bridge the gap between leaving the EU in March 2019 and beginning a new arrangement, to give government departments and businesses time to prepare for the change. In her Florence speech in September, she called for an "implementation" period that would be both "strictly time-limited" and last "around two years." She proposed that during transition, access to each other's markets would continue on current terms, tacitly admitting that the UK would continue to abide by EU rules and regulations, albeit relinquishing its power to change them.
A transition period is necessary to allow time for negotiation, ratification and implementation. But here's the thing. There is significant evidence that two years will not be sufficient—five years would be a more realistic timeframe.
Negotiating an international free trade agreement takes time—the EU-Canada free trade agreement, CETA, took seven years to negotiate. The UK wants a far more ambitious bespoke agreement, which also includes services. The more tailored the deal, the more protracted the negotiations will be. Michel Barnier, the EU's chief Brexit negotiator, said recently that he thought it would take "several years" to reach a final agreement. People with experience of trade negotiations tend to agree.
Even if the UK manages to fudge the border issue and reaches "sufficient progress" in negotiations at the next EU summit, detailed trade talks may not even start until early 2019. This is in stark contrast to the predictions of Brexit minister David Davis and international trade secretary Liam Fox. Davis has said a bilateral trade agreement with the EU could be agreed by March 2019, and Fox remarked that a post-Brexit free trade deal should be the "easiest in human history."
We can expect a significant lag before the agreement comes into force. EU free trade agreements go through a lengthy ratification process, and the complexity of the UK-EU deal will mean that it will require ratification by both the EU's institutions and the member states. CETA was proposed for ratification by the Commission in July 2016. After a delay caused by a rebellion in the Walloon Parliament in Belgium, it was approved by the European Council and Parliament. The agreement entered into force provisionally in September 2017, but not fully, because it is still being ratified by individual member states, which "could take a number of years."
Ultimately, the transition period will need to last as long as it takes to get the new customs regime and infrastructure up and running—and given the furore over this issue yesterday, this will be no small task. Many business leaders and trade experts have expressed scepticism about the two-year limit. Mark Corby, chair of the UK Trade Facilitation Expert Panel, says: "You need three to five years, taking the transition up to 2025, to put in place the untried, streamlined systems ultimately envisaged." HMRC has faced technical difficulties upgrading its customs IT system, which will need to manage an increase of 50 million declarations after Brexit. New customs infrastructure will need to be set up at borders where previously there was none. A senior HMRC official estimated that between 3,000 and 5,000 new staff could need to be hired and trained. The UK will also be reliant upon the European side making parallel changes.
Many businesses are in favour of a significantly longer transition. A survey published by London First and Lloyds Bank in September 2017 found that 58 per cent of businesses want a transition of longer than two years—including 25 per cent wanting a period of up to three years and 17 per cent wanting more than five years. Companies will need to analyse how their supply chains and ability to meet rules of origin requirements might be affected, and implement corrective measures. Business leaders have pointed out that two years is the average implementation period for one EU directive, let alone an entirely new trading arrangement.
The end to freedom of movement will require new immigration regimes on both sides. Three million EU nationals in the UK will need new residency permits, as will the 900,000 British citizens in the EU. The Institute for Government (IfG) found the government's current permanent residency process "not fit for purpose"—it will need to be redesigned, and new staff will be needed. Employers and landlords will also need to adjust to the new system. The IfG stressed that unless a new regime is implemented early in the negotiating process, it will be "several years" before it is implemented.
A two-year transition period is unrealistic, and the UK and the EU both know it. But it suits both sides to maintain this illusion for now. Neither the EU and its member-states, nor the UK government have any desire to elongate the process. The European Parliament is focused on elections in 2019, and its guidelines suggest a limit of three years. Barnier has said that transition should be "short." The Commission wants to be free to set its budgets and policies for its new configuration of 27. The Council guidelines also stressed that transition should be "limited in time."
May is also under intense political pressure to deliver Brexit quickly. In an interview with the Sun in September, Foreign Secretary Boris Johnson said: "Am I impatient about it [Brexit], do I want to get it done as fast as possible? Yes, absolutely. Do I want the delay to go on longer than two years? Not a second more." Comments like these, alongside a febrile media atmosphere of accusation and betrayal, and an election in 2022, put May under pressure to show she will not let Brexit drag on. She has been repeatedly pushed into setting red lines: the government recently tried to enshrine the exact date of Brexit in the Withdrawal Bill, for instance. This weekend, an open letter from Brexiteers tried to pressure her into setting more.
May's hope for a period of "around" two years appears to have left some flexibility to extend transition. Hopefully, she will not close off this opportunity as well. As the mess on Monday showed, Britain needs more time.
Beth Oppenheim is a research assistant at the Centre for European Reform.