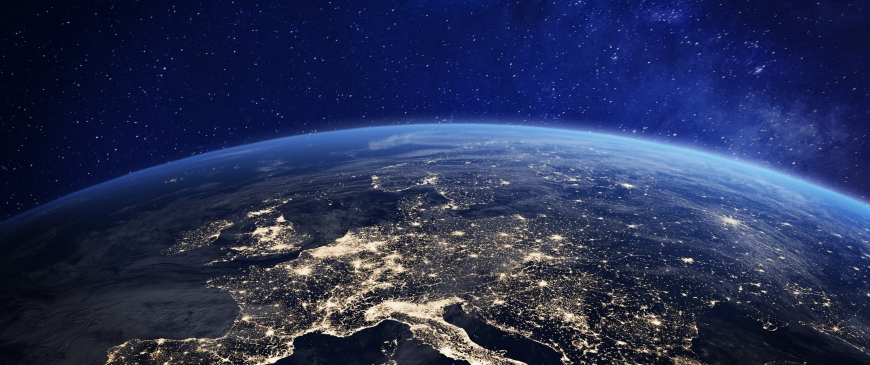 Is a European Security Council a good idea?
The EU is a trade and regulatory superpower, but it has consistently punched below its weight in foreign and security policy. Its sanctions on Russia for its intervention in Ukraine, and its work in negotiating the Iran nuclear deal stand out as rare successes. But the Union has often been weak and sometimes wholly absent in the Middle East and North Africa, and hamstrung by its internal divisions when dealing with the US or China. Brexit will compound this weakness by depriving the EU of one of its heavyweights.
In an effort to tackle this frailty, France and Germany have proposed setting up a 'European Security Council' (ESC). While the idea of an ESC has been around for years, it was recently revitalised by French President Emmanuel Macron, and has also been endorsed by German foreign minister Heiko Maas and other senior German politicians. France and Germany have not yet put forward a detailed blueprint for the ESC, but it appears it would have a dual purpose. First, allowing close consultation and coordination with the UK after Brexit, keeping London plugged into European decision-making. Second, making Europe a more agile and forceful player in foreign and security policy.
There are at least four forms an ESC could take:
- A wholly new body within the EU's institutional architecture. But this would require treaty change, as the EU treaties currently do not allow for such a structure, and securing member-states' unanimous approval would be very difficult.
- A dedicated meeting of the European Council, with all member-states plus the UK as non-voting member, with the aim of discussing and co-ordinating foreign policy.
- An intergovernmental forum outside EU structures, involving some member-states and the UK. While the ESC could not directly impose sanctions, if its members agreed, the ESC could make it easier for them to use their combined influence to convince the EU as a whole to adopt them. Other member-states would find it harder to object to a sanctions proposal if a core group had already agreed.
-An expanded E3, the informal arrangement though which France, Germany, and the UK discuss policy towards Iran. The E3 could involve other member states depending on the issue they were discussing. This would allow close coordination with the UK, and would allow a core group of member-states to take the lead in shaping European foreign policy.
Whatever its form, it is important to be realistic about what an ESC could achieve. It would allow the UK to remain closely involved in Europe's foreign policy. And, by increasing consultation and coordination, it could potentially make it easier and faster for member-states to agree on a common policy where they broadly agree.
However, an ESC will not automatically make member-states more willing to act decisively. This is due to a basic lack of political will that has often reduced EU foreign policy to little more than 'declaratory diplomacy' - the EU condemns and bemoans but rarely undertakes concrete action to back up its rhetoric. An ESC would also not make the EU more capable to respond. Especially in military contingencies, the EU has often been held back by its lack of capabilities. While it has set up a range of defence initiatives to address this issue, such as the European Defence Fund (EDF), much work remains to be done.
An ESC would also not make it easier for the EU to reach a common position if there are large disagreements between member-states. Indeed, member-states have sometimes been unable to agree on a common policy even when they shared the same basic interests. For example, Italy and France have been unable to agree on a way forward in Libya even though they both share an interest in stabilising the country.
There is also a risk that an ESC could prove deeply divisive. The more exclusive and formal its structure is, the greater the risk that it leads to discord between member-states. Some member-states may also view an ESC as a move to make Europe more independent of the US – especially in the context of Macron's recent comments on the "brain death" of NATO.
If they choose to go ahead with the idea of an ESC, France and Germany should aim to structure it so that it does not undermine the EU's cohesion. If an ESC is outside of EU structures, it could be modelled on the UN Security Council, with permanent and rotating non-permanent members. And, if France and Germany opt for a more informal expanded E3 model, they should always involve countries that have a particular national specific interest in the issue at hand.
The legitimacy of any small group cooperation between member-states could also be bolstered if it included the EU's High Representative or another EU leader. And, where possible, the EU itself should explicitly endorse small group initiatives. When member-states agree on a certain policy, but implementation is the problem, leaders could task a group of member-states with implementing the common decision, making use of EU funding and support.
The Franco-German proposal for an ESC remains vague and, depending on its structure, risks undermining EU cohesion. But increasing informal consultation and co-ordination between groups of member-states and the UK, could help make Europe a more agile and forceful player on the global stage. Over time, closer consultation and co-ordination should contribute to fostering a better common understanding of the strategic challenges facing Europe, leading to a greater willingness to co-ordinate, and a stronger European foreign policy.
Luigi Scazzieri is a research fellow at the Centre for European Reform.