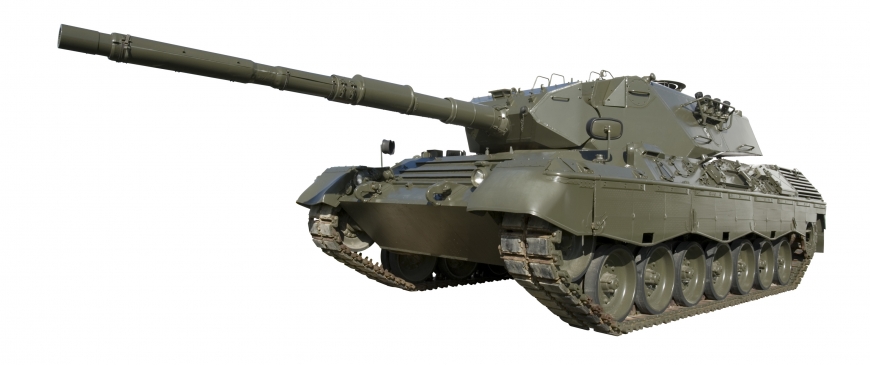 Germany's arms exports have spiked, despite domestic opposition and public scrutiny
Between 2014 and 2017, Germany's government approved some $31 billion in weapons sales, including almost $18 billion to countries outside the European Union and the NATO alliance. Under Chancellor Angela Merkel, Germany has become one of the top five arms exporters in the world by volume, despite major domestic opposition to the sale of German weapons. In an email interview, Sophia Besch, a research fellow at the Centre for European Reform and an expert on German defense and security policy, explains what is driving the growth in Germany's defense industry, even as "many German citizens reject arms exports flat out."

WPR: What is driving the rapid growth in Germany's arms exports?

Sophia Besch: In recent years, Germany's defense industry has shifted the focus of its sales to exports abroad because of a decrease in orders from the Bundeswehr, the German military. For many German companies, the German government is still the most important individual customer, but their total sales of products and services are often significantly dependent on export markets. And in spite of repeated calls for strict arms controls from center-left and left-wing opposition parties, exports have continued to grow because German arms enjoy an international reputation for high quality.

There are currently some question marks over whether this growth will continue. The governing coalition agreement struck in March between the center-left Social Democratic Party, or SPD, and the conservative alliance of Merkel's Christian Democratic Union and the Christian Social Union includes a pledge to "toughen" the rules on arms exports. On the other hand, the German government's commitment to increase its own defense spending might bolster domestic demand and offset some of the restrictions on export growth, if such an increase materializes.

WPR: What is the state of Germany's defense industry, and who are its main clients abroad?

Besch: The German defense industry is less a state-sponsored enterprise, than a number of individual, efficient companies responding to the needs of the market. The biggest companies in Germany are multinational, but there are numerous small and medium-sized companies, as well. Many of the firms are world leaders in niche products. German suppliers are strong in land systems, submarines, coastal warfare ships, components for electronics and sensors, and ammunition. Krauss-Maffei Wegmann, based in Munich, and Rheinmetall, based in Dusseldorf, are the largest German arms firms. Heckler & Koch is the most important manufacturer in Germany of infantry weapons and is one of the world's five largest producers of rifles and pistols in terms of sales.

For years, there has been no coherent arms policy in Germany, and complex, often contradictory procurement procedures have in the past led to high costs, quality issues and delays. In response, the Federal Ministry of Defense in 2014 launched the "Agenda Ruestung" with the aim of modernizing the arms industry. Biannual armament reports have been introduced to increase transparency, while the contract management for the procurement process is being modernized and an institutionalized dialogue between the industry and the Bundeswehr was created.

Between 2014 and 2017, Merkel's government approved roughly $31 billion worth of weapons sales. During that period, exports to nations outside the European Union and NATO totaled nearly $18 billion, an increase of 47 percent compared to export sales approved by the Cabinet from 2010 to 2013. Proving particularly controversial inside Germany, the government drastically increased its arms sales to Saudi Arabia and Egypt.

WPR: How is Germany's status as one of the world's top arms exporters viewed domestically? Are there any political implications for the current government?

Besch: In Germany, the topic of arms exports is constantly under public scrutiny, more so than in other European countries, and the political, moral and financial questions surrounding the issue are regularly the subjects of contentious debate. Many German citizens reject arms exports flat out and regard them negatively, no matter the political context in the countries where they are sold.

Politicians have also failed in the past to engage citizens in a constructive dialogue about Germany's arms export policy.They should make a greater effort to explain how Germany's arms exports fit into its broader defense policy goals. A more transparent discussion, which engages the parliament as well, might help to bridge the gap between Germany's rather restrictive defense policy and its arms exports.

In January, the government announced during its coalition talks that it would stop approving arms exports "immediately" to any state participating in the war in Yemen. This came in reaction to heavy criticism over reports on the volume of sales approved by Merkel's government.
Sophia Besch is a research fellow at the Centre for European Reform.