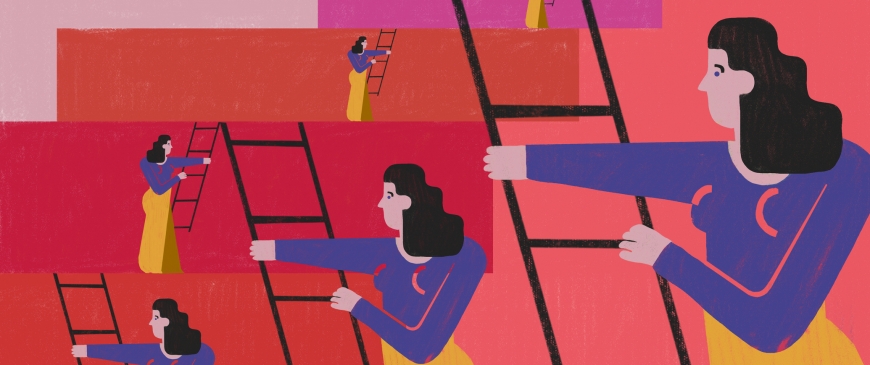 If women ruled: 10 women call for new voices in the European conversation
The European Union wants to restart a debate on the future of Europe. But its efforts so far aren't promising. European policy debates tend to be dominated by male voices. A recent task force set up by the European Commission to "do less more efficiently" is all-male, and on the national level, ego-driven politicians are more concerned with blaming Brussels for policies gone wrong than responding to its problems.
The Union needs an inclusive approach to tackling its problems. Only by including women and a diversity of opinions in its policy discussions can it break out of its current ideological and political rut. A group of senior female experts based in Brussels got together to brainstorm Europe's future and came up with radically different solutions. Here are our proposals.
Corinna Horst, deputy director of the German Marshall Fund of the United States and president of the Brussels chapter of Women in International Security
Let in young women
Camino Mortera-Martinez is a research fellow at the Centre for European Reform and their Brussels representative.
Let's play a game: Name five powerful women who have the ability to shape the future of Europe. I bet your list includes Angela Merkel, Theresa May and, perhaps, Christine Lagarde. What do they all have in common? They are all white women, and either chose not to have children or are old enough that they're "done" with all that family stuff. They also have the experience to be taken seriously by the cohort of the men they face on a daily basis.
The fact that women are underrepresented at the top of the ladder is hardly news. Politics, like pretty much any other workplace, is an environment designed by men for men. Women running for office, the board room or the corner office learn from very early on that being aggressive, assertive and unemotional pays off.
It is time for younger women to reclaim their place in Europe. Women who are not afraid to be ambitious while still thinking of having kids, or striking a healthy work-life balance. Women, who are allowed, and rewarded, for being who they want to be. Europe needs all the brainpower it can get to solve the many messes we face, whether Brexit or the disputed future of the eurozone.
Listen to the left-behind
Cinzia Alcidi is a senior fellow at the Centre for European Policy Studies.
Europe needs to re-examine its belief that economic growth is a beneficial force for most people. In the last decades, growth has been accompanied by rising inequality leaving certain people, regions and countries behind.
These dynamics are not only a challenge to the sustainability of growth, they heavily contribute to the polarization of our political debate, and create fertile ground for nationalist rhetoric. To gain widespread support among those who feel left behind, politicians promise short-sighted policies that prove popular but do not address the root causes of the problem. Others court those who benefit from the system, with promises of policies that will preserve their advantages.
Both groups have found that focusing on external threats — such as migration — and the dangers of globalization is a good way to gain support. While EU-bashing is an easy way to shift the responsibility of wrong policies far from the capitals, such an approach will prove disastrous for the entire Continent. To revert the trend, we need to focus on addressing the root causes of the economic disparities and inequalities that have made people susceptible to nationalist rhetoric.
Involve the youth
Ester Asin is the director and EU representative  and Jacqueline Hale is the head of advocacy at Save the Children International's Brussels advocacy office. 
How we define what Europe becomes will depend on who is sitting at the drafting table and how they see the world. History tells us that imperial maps were drawn from a single, narrow perspective — the perspective of those few white men who held the pen.
Citizens want to live in an EU that will protect them when they are most vulnerable. But this does not equate to erecting fences and borders or increasing defense budgets. We need to ask ourselves how people define "security" and "power." To some, "security" means social security, a secure home, protection from domestic violence or bullying in schools, tackling the climate change that threatens our water supply, or addressing societal drivers of conflict.
The debate over Europe's future needs the voices of people outside the Eurocrat bubble. We need to listen to what the larger population is discussing in town halls, in the workplace and in schools. Most importantly, perhaps, we need to bring our youth into the conversation. In the U.S., the March For Our Lives movement is redefining political activism. Young people will be the ones to redefine what it is to be European. Let's listen to what they have to say.
Bring in global voices
Rosa Balfour is a senior transatlantic fellow at the German Marshall Fund of the United States and a member of the steering committee of Women in International Security. 
The EU is in crisis because European democracy as a whole is eroding and voters feel left out of the decision-making process, which is increasingly taking place on an international institutional level to which they do not have access. It's time to inject some chaos and turn the debate on its head. We need to connect civil society across national boundaries and help them engage with international institutions as well as national governments.
Including citizens from around the world in policy debates is the most productive way to forge a vision of our common future that is based in the universal principles that brought about Europe's peace and democracy.
The Paris conference was one of the most significant achievements of the 21st century, bringing together a global alliance to fight climate change.
Working together in the same way on migration would be far more successful than erecting national fences. The EU has a reputation for upholding strong principles and serves as a beacon of inspiration to democracies around the world. Now it's time for us to turn outward and draw inspiration from global actors to design a future truly in line with our Union's founding values.
Right the imbalance
Heather Grabbe is the executive director of the Open Society European Policy Institute.
In debate about the future of Europe, some Europeans are more equal than others. The official discourse in the EU — both in its institutions and on a national level — is dominated by pale males above a certain age. If the EU is serious about fostering innovation and creativity, it needs to solicit a diversity of viewpoints. A larger, more diverse group of people is likely to produce better and more original ideas than a smaller homogeneous one.
One obvious dimension of homogeneity is gender. The 50/50 balance of the population in Europe is strikingly different from the ratio of female to male voices in official talks. Recent research by the Open Society Foundations shows that audiences at high-level policy conferences typically hear from one woman for every three men. At some events, 85 percent or even 100 percent of the speakers are men.
This absence of female voices matters because it impoverishes a debate that is vitally important for future generations. Decisions by the same group of people is likely to result in the same old initiatives that serve the same old interests. If we want to avoid the same old results that failed in the past, we need new voices with new ideas.
Start from the bottom
Jana Hainsworth is the secretary-general of Eurochild and president of Social Platform.
A prosperous and peaceful Europe that promotes prosperity and peace on a global scale? We are probably further from that ideal than at any time in recent history. Despite talk of economic recovery and prosperity, social divisions, harmful identity politics and fear mongering threaten our fragile democracies. The EU hangs on by a thread — more out of fear of what we will lose if it falls apart than any clear vision of what we can achieve together.
At some point the EU gained a popular reputation as a self-serving machine of faceless bureaucrats. This Commission attempted a charm offensive to "connect with citizens." But it's largely a cosmetic exercise. Ultimately there's no shortcut to building transparency and accountability from the grassroots up.
An organized civil society united around common values will be crucial to restoring trust in the EU. Citizens' engagement is not a one-off event. It's a long process of listening, explaining and connecting what happens at local level with the EU's vision, policies and programs. The Union needs us, and it should value and invest in us. Our next EU leaders urgently need to integrate all citizens into the decision-making process.
Introduce affirmative action
Corinna Horst is a senior fellow and deputy director of the German Marshall Fund of the United States and president of the Brussels chapter of Women in International Security.
The EU's "Unity in diversity" motto is supposed to celebrate Europeans working together for peace and prosperity while recognizing differences in culture, tradition and language. But it's an empty statement these days. Exclusion, a lack of accountability and the erosion of shared values are what's really dominating the agenda.
Europe is not a finished project. Nor is there an obvious precedent for what it should be. When the EU grew to 28 members, there was an ongoing struggle to define its contours, benefits and responsibilities. Migration, enlargement, and globalization have irreversibly changed the Union. If the EU wants to survive, it has to truly embrace the reality of its diversity.
The Union has to recognize the unique and historical perspective of its regions — especially those to the east — and include more young people and minorities in its decision-making processes. This is especially true at a time when Europe's domestic and foreign affairs are increasingly intertwined.
To do so, it should make use of affirmative action measures and more robustly apply principles of equal rights and rule of law. This would allow Europeans to truly have a say and aspire to a shared identity and purpose that is greater than any difference of color, faith, age, region or gender.
Mind the Brexit gap
Agnes Hubert is a member of G5+, a feminist think tank based in Brussels, and a visiting professor at the College of Europe.
Gender and Brexit. For most people, these two concepts share little in common. And yet, women are uniquely vulnerable to the effects of the U.K.'s withdrawal from the EU, and distinctly under-represented in the negotiations.
The EU's legal and policy framework for gender equality has shielded women across the Union from the most salient discriminations and acted as a driver for equality. Despite the pledge by British government representatives to maintain the same level of protection of women's rights, the distinct possibility that the U.K. will water down employment rights in the name of competitiveness could seriously hurt British women.
As a group, women are also at greater risk of the consequences of a predicted economic downturn than men. Changes to the labor market and access to public services disproportionately affect women and would have an impact on available resources for women's rights organizations.
The creation of the EU's gender equality policy was a joint effort among all members. Back home, British activists and policy makers benefited from the contributions of Eurostat and the European Institute for Gender Equality as well as EU research and European Social Fund projects. The input of British experts in the EU debate has been crucial and will be dearly missed.
Celebrate diversity
Shada Islam is the director of policy at Friends of Europe.
Europe's future depends quite simply on our ability to construct a truly inclusive society that accepts that people may look, pray and live differently but are connected by common citizenship and shared core values.
This idea is not unrealistic. The truth is that despite the harshness of headline-grabbing xenophobic declarations made by politicians who demonize immigrants, Muslims, Jews and black Europeans in equal measure, the Continent is already a society of diverse religions, colors and ethnicities. We just don't recognize it — or celebrate it.
Integration is a two-way street, based on give and take. It can take time and requires effort. But look at what is happening in towns and cities across Europe and there are plenty of examples of successful integration efforts on the local level. Europe's future is in the capable hands of its mayors and local authorities. Now national leaders need to catch up and champion that commitment on a European level.