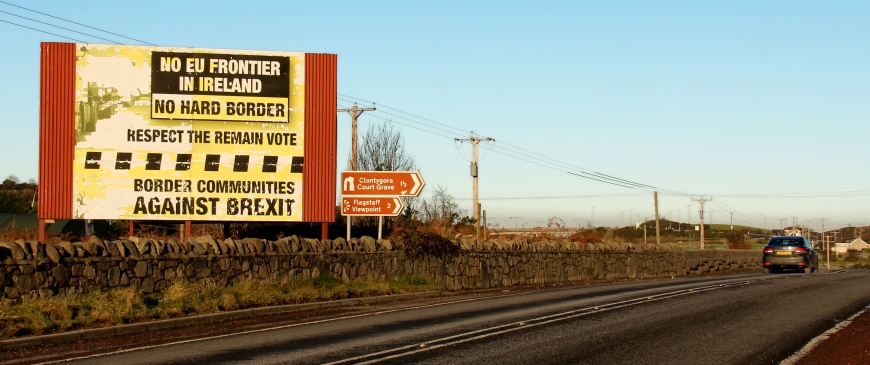 No deal, no border
In the event of no deal Brexit, we now know the UK's plan for the border between Ireland and Northern Ireland: pretend it doesn't exist.
On Wednesday, amidst the Westminster Brexit hullabaloo, Whitehall published a list of the tariffs it would levy on imports under a no deal scenario, alongside its plan to avoid a hard Irish border. In summary: the UK will not levy tariffs on imports, no matter where they originate from, in most cases. However, high tariffs will be levied on some products deemed domestically sensitive, including beef, some dairy products, ceramics and cars.
With regards to Northern Ireland, the UK has stated it would temporarily waive nearly all checks on goods crossing the land-border between Ireland and Northern Ireland, and that no tariffs would be levied. Where additional checks on imports from the EU are needed in order for the UK to comply with its international obligations – for example checks on dangerous chemicals – they may either be done at designated points of entry such as Belfast airport or via electronic notification.
While the UK's approach on tariffs makes political sense, given the need to try and offset predicted domestic consumer prices hikes as a result of no deal, it raises questions for Irish industry. And when combined with the UK's no deal proposal for Northern Ireland, the British strategy begins to fray at the seams. 
What with agriculture remaining one of the few areas where the UK would continue to apply tariffs, and the UK being the single biggest market for Irish agri-food exports, Irish farmers will be disproportionately affected. Being that the default would be for the UK to levy external tariffs at the level inherited from the EU across the board, and the British proposal is certainly an improvement on that front, it is hard to view this as an intentionally hostile act. But that doesn't mean it will hurt any less.
However, on the face of it there is a workaround. As the UK will not be levying tariffs on goods crossing the border into Northern Ireland, nor carrying out any checks either, an ingenious entrepreneur might see an opportunity. If exports to the UK were to be routed via Larne, rather than shipped directly from Dublin, combined with a little bit of deception, then arguably you could continue selling to the UK on much the same terms as now.
On reading the UK's guidance, Jeremy Thomson-Cook, the chief economist of international payments firm WorldFirst, quipped he was "moving to Larne to set up an import/export business." And I'd imagine quite a few would be tempted to join him. For who can really say whether a cow reared on the border is Irish or Northern Irish, or indeed where the milk it produced actually originates from.
In the long-run, providing such an arbitrage opportunity would only serve to incentivise smuggling far above levels that currently exist, funnelling funds to criminal elements of society. Indeed the UK's guidance acknowledges the "challenge posed by organised criminals seeking to exploit any new system".
Furthermore, a cynic would suggest that the UK's proposal goes out of its way to provoke Ireland and the EU into moving first to enact checks, so as to shift the blame away from Britain. If goods normally liable for EU tariffs are able to reach Ireland via Northern Ireland, which they can enter tariff-free, then there will be an open backdoor into the EU single market. 
While the EU, and indeed Irish businesses concerned about competitiveness, could perhaps live with this for a short while, such a scenario is not sustainable in the long-run, and controls would need to be put in place.
The UK's proposal would see tariffs (when applicable) and controls enforced on all of its external borders, including Holyhead and Liverpool, except the land border with Northern Ireland. There are is a questions mark about whether that would breach its WTO obligation to treat imports from all members with which it does not have a trade agreement with the same conditions – the so-called most favoured nation clause. Opinions on the issue differ, but it in practice we would only find out the answer if and when another WTO member decided to bring a case, which is far from a given.
To the UK's credit, its intention is for such an approach to only be temporary, buying time for the UK, Ireland and the European Commission to find a long-term solution (there is a, probably accurate, presumption that negotiations would continue even in the event of no deal). Reading between the lines, this looks like implicit acknowledgement that an arrangement that looks something like a Northern Ireland-specific backstop – which would leave Northern Ireland in alignment with the EU's customs union and single market for goods - would still be both necessary, and in play, even in the event of no deal. 
Furthermore, in acknowledging that even in the event of no-deal, Northern Ireland would be treated differently from Great Britain, the British government has put lie to the myth, held onto by the DUP, that no deal would at the very least ensure a whole-UK settlement. The DUP's "blood red" line through the Brexit talks has been that there should be no new border between Northern Ireland and Britain when it comes to UK trading arrangements. Now we have confirmation that there will be differences no matter what. 
An optimist might argue that a silver lining of this otherwise unsustainable, and slightly provocative proposal, is that it will lead the DUP to question their opposition to the economically, and politically, superior backstop proposal laid out in the Withdrawal Agreement. But one of the overarching lessons of Brexit is that optimism is largely misplaced.
Sam Lowe is a senior research fellow at the Centre for European Reform.
This article was first published by The Business Post here.