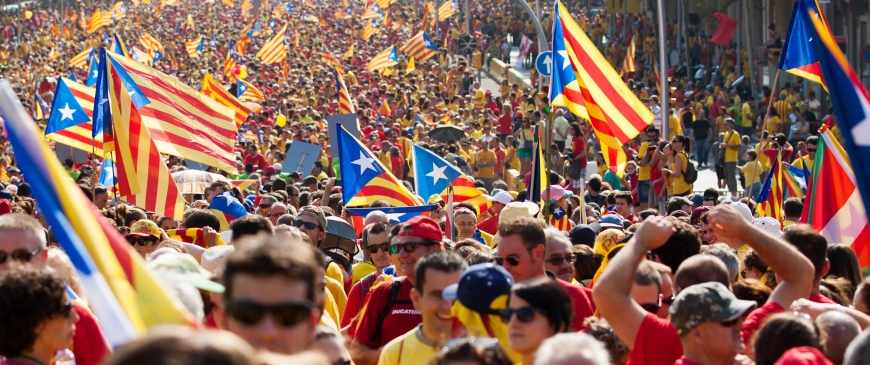 Spanish constitution needs overhaul to avert Catalonia crisis
Television footage of Guardia Civil officers in riot gear manhandling Catalonian citizens as they tried to vote in Sunday's independence referendum has shocked Europe.
But this is not a simple case of a state denying the democratic rights of its people. The crisis in Catalonia is the result of a clash between increasingly radical separatism and a constitutional framework that is too rigid to accommodate those demands.
To de-escalate the situation, Mariano Rajoy, Spain's prime minister, needs to urgently reform the country's model of regional government and change the constitution so it can better satisfy the hunger for greater self-determination in parts of the country.
Dali, Gaudi, and FC Barcelona...
Catalans have long been proud of their individual identity, with their own language, renowned artists like Dali and Gaudi, and a world-famous football team.
Despite enjoying a degree of autonomy for many years, support for pro-independence parties in the region has grown in recent times in response to Spain's economic crisis and corruption scandals.
While surveys have shown most Catalans want to stay in Spain, demands for independence have grown since Carles Puigdemont – a life-long separatist – became leader of Catalonia's regional administration in January 2016.
Rajoy's response to Catalan demands for an independence plebiscite has been unequivocal: the Spanish constitution protects the country's territorial integrity and forbids such referendums. Puigdemont's decision to press on with a plebiscite earlier this month has triggered the most serious constitutional crisis in Spain since the country transitioned to democracy.
The Catalan government said about 90 percent of the 2.2 million people who voted in Sunday's referendum backed independence, though the figures have not been independently verified and turnout was just 42 percent.
In view of the results, Puigdemont has pledged to declare independence in the coming days, despite a rare public intervention from King Felipe criticising his actions and warning that Calatalan separatism threatens Spain's economic stability.
There is a way for Rajoy to diffuse the crisis. As much as Spaniards cherish their constitution for laying the foundations for a transition to democracy in 1978, it is time to change it.
While the referendum was illegal, Rajoy should acknowledge that the separatist feelings of many Catalans deserve to be addressed and improve the way the constitution recognises the country's regional diversity.
The government should consider reforming its model of regional government, including giving the Senate more powers to be able to better represent the regions in the law-making process.
The government needs to consider whether Spain would be best served by further devolution of powers to regional administrations.
'Get advice from Quebec, and Northern Ireland'
To depoliticise the reform process, and avoid more claims of victimisation by the Catalan government, Rajoy could set up a 'council of wise men and women' to carry out this work.
This council could possibly be made up of a mix of former Spanish statesmen and international officials with experience of dealing with separatist issues in other countries, such as Quebec or Northern Ireland.
Ensuring the process has support from across the political and regional spectrum at an early stage would help strengthen its mandate and give it legitimacy, as well as helping to reduce the possibility that it might be seen as a capitulation by Rajoy to the Catalan separatists.
The situation would certainly have more chance of success if Puigdemont and Catalonia's pro-independence parties sign up to it, or at least suspend their separatist actions while it runs its course.
Personality clash
Given the personalities involved, a quick solution to the crisis may be unlikely. Rajoy has a tendency to bury his head in the sand when faced with intractable issues.
His early offers of dialogue with Catalonia proved insufficient and when he finally dispatched his deputy prime minister to Barcelona to mediate, in November 2016, the initiative was too little too late.
Rajoy's government has a tendency towards technocracy, and is seen as being incapable of looking beyond blunt judicial solutions to problems. Meanwhile, the rough treatment of voters by the Guardia Civil has galvanised the separatists' and brought them sympathy at home and abroad.
On the Catalan side, Puigdemont has been equally unbending in his determination to challenge Madrid. He has cannily cultivated a narrative of the separatists as victims of state repression.
Shadow of Franco
This image harks back to the Franco years, when separatism in Catalonia and elsewhere in Spain was crushed by the dictatorship with measures such as bans on using regional languages.
If Puigdemont goes ahead with his pledge to declare independence in the coming days he will be doing it in the knowledge that Madrid is likely to respond by enacting Article 155 of the constitution which gives the national government the power to assume control of the regional government – a move that is sure to further inflame tensions.
Spain with its flamenco and bullfighting is often depicted as the land of passion, but the Catalan crisis requires cool heads and practical long-term solutions. The scenes of Guardia Civil officers dragging women out of polling stations, firing rubber bullets and beating peaceful voters with batons are reminiscent of darker times that should have no place in Spain or Europe today.
Camino Mortera-Martinez is research fellow and Brussels representative at the Centre for European Reform.