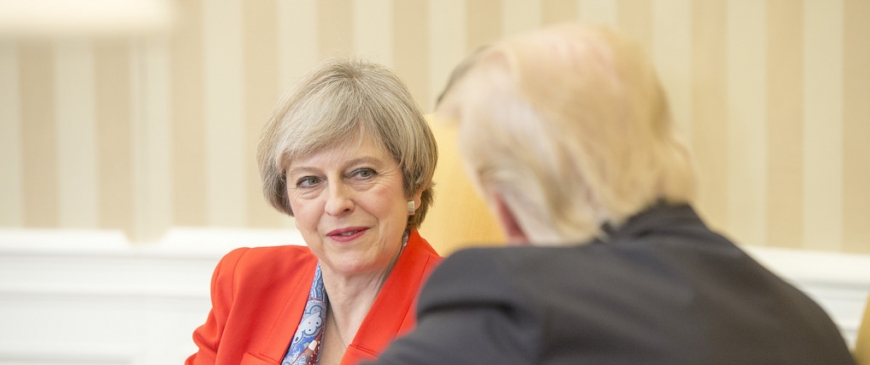 Trump will be May's 'GUEST FROM HELL' during UK visit, former diplomat warns
US President Donald Trump will be Theresa May's "guest from hell" when he arrives in the UK on Friday, with the British Prime Minister locked in a desperate battle to stay in her job after the sensational resignations of Foreign Secretary Boris Johnson and Brexit secretary David Davis, former diplomat Ian Bond has said.
Mrs May is under intense pressure after the agreement thrashed out at Chequers last week began to unravel with the loss of Mr Davis and Mr Johnson's decision to follow suit has plunged her administration in further chaos.
Against this backdrop, the arrival of the outspoken Mr Trump - and the vociferous demonstrations he is likely to trigger as a result of controversial immigration policies and allegations about his treatment of women - is the last thing Mrs May needs, said Ian Bond, director of foreign policy and the Centre for European Reform.
He explained:"Trump's visit will be more of a minefield than manna from heaven for the Prime Minister.
"He is hugely unpopular in the UK, and her invitation to him to pay a State Visit attracted a lot of criticism."
Before taking up his post with the CER, Mr Bond was a member of the British diplomatic service for 28 years, including five years based in Washington between 2007 and 2012.
He added: "Now he will be turning up in the middle of a political crisis, with the risk that he will make May's life even more complicated than it is already, by backing hard-line Brexiters, or attacking the EU and NATO.
"And to cap it all, he has just described Putin as 'fine', in the week when a British citizen was poisoned by Russian chemical weapons in Wiltshire.
"Trump is May's guest from Hell."