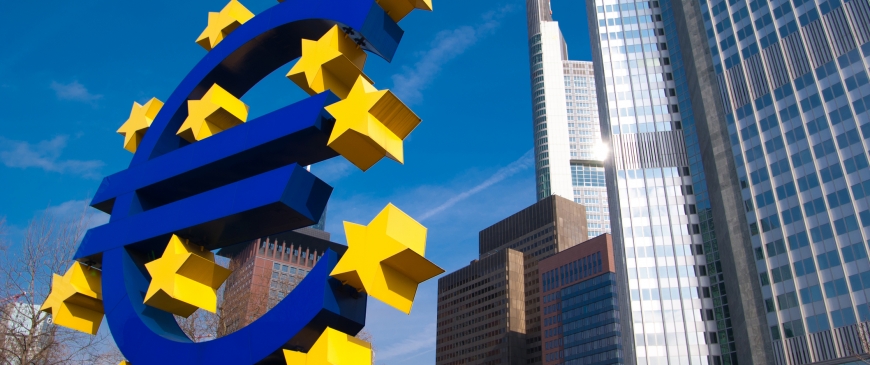 Was bringt QE in Europa?
Ich habe hier die These vertreten, dass die EZB keine unkonventionellen Maßnahmen beschließen wird. Was aber, wenn doch? Christian Odendahl vom CER hat sich angeschaut, was Quantitative Easing für die Euro-Zone bedeuten würde. Ergebnis: Nicht allzu viel. Odendahl diskutiert zwei Wirkungskanäle, über die Anleihekäufe Produktion und Inflation beeinflussen können. So kann die Notenbank über QE die langfristigen Zinsen nach unten drücken und damit den Wert anderer assets wie Immobilien oder Anleihen in die Höhe treiben. Dies führt dann idealerweise dazu, dass Haushalte und Unternehmen mehr konsumieren und investieren.
Das Problem dabei: In der Euro-Zone gibt es einige Faktoren, die die Wirksamkeit dieses Kanals beeinträchtigen.  So finanzieren sich Unternehmen nicht so sehr über den Kapitalmarkt, und in Deutschland wirken höhere Immobilienpreise wegen des hohen Anteils an Mietern nicht so stark auf den Konsum.
Overall, these direct channels are weaker in the eurozone than they are in the US or the UK. This is one reason to be sceptical about the likely impact of QE on the eurozone economy.
Der zweite Übertragungsmechanismus wirkt über die Erwartungen. Wenn die Wirtschaftsakteure davon ausgehen können, dass die Zentralbank Produktion und Inflation stabil hält, richten sie ihr Verhalten danach aus und der Zustand stellt sich ein. Das Problem hier: Die EZB hat bereits zugelassen, dass die Inflationsrate unter ihren Zielraum fällt  – und reagiert auch jetzt zögerlich. Wenn sie unter großen Bauchschmerzen QE einführt, wird das niemanden davon überzeugen, dass sie ihr Mandat wirklich ernst nimmt.
Starting QE now, after inflation has undershot the ECB's own forecasts repeatedly – essentially being dragged to the QE altar – is unlikely to convince anyone. The conservative approach of the ECB towards the economy and inflation, its hawkishness, is now firmly entrenched.
Was also tun? Nach Ansicht von Odendahl muss die EZB zeigen, dass sie es wirklich ernst meint und als Signal ihrer symmetrischen Ausrichtung auch eine zeitweise höhere Inflation tolerieren.
However, the ECB does have the power to make a commitment that is purely focused on inflation (and hence firmly in line with its mandate). The ECB should announce that it aims to reach 2 per cent inflation on average over the next five years.
Die EZB würde also ein Preisniveauziel wählen – und wenn sie dieses Ziel in die eine Richtung verfehlt, muss sie es zum Ausgleich auch in die andere Richtung verfehlen.