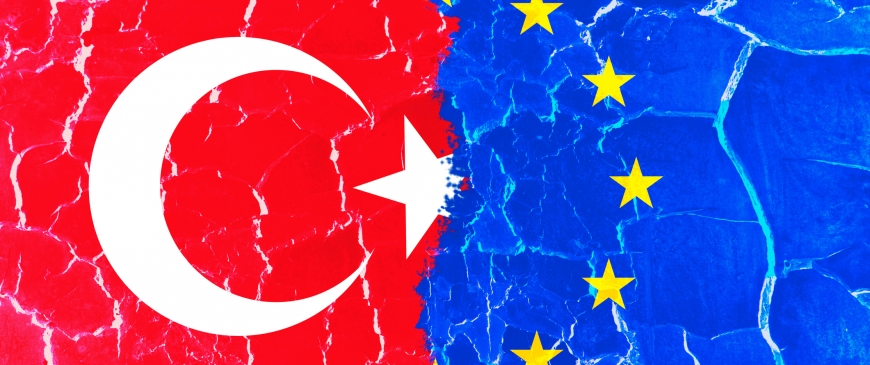 The West cannot afford to give up on Turkey
European leaders are set to discuss the increasingly difficult issue of Turkey at a summit this week in Brussels amid the deepest freeze in bilateral relations in years.
Criticism of President Recep Tayyip Erdogan's crackdown following last year's failed coup and diplomatic bust-ups with Germany and the United States have taken their toll. Last month, German Chancellor Angela Merkel called for a suspension of talks to bring Turkey into the European Union.
But if the EU ends accession negotiations without an alternative in place, it will only deepen the rift.
Turkey, which first applied to join the EU in 1987, has long been seen as an important partner for Europe on security and migration. EU nations have remained committed to granting Turkey membership, partly in the hope the process would help foster reform, although some -- such as Germany -- have been wary of the challenges of assimilating such a large nation.
Despite a pledge to revive accession talks as part of a migration deal with Ankara in 2016, bilateral relations have deteriorated to a crisis point.
Erdogan's crackdown, which included the arrest of 40,000 people, has fueled concerns about human rights and political freedoms in Turkey. Relations with Berlin in particular have soured dramatically.
Germany's decision to block Turkish politicians from campaigning on German soil ahead of an April referendum to give Erdogan more powers prompted the Turkish leader to accuse Germany of "Nazi" practices.
Turkey's detention of some German citizens over the summer was the straw that broke the camel's back. In response, Berlin warned Germans traveling to Turkey that they risked arbitrary detention. And Merkel has said she now wants to call off Turkey's accession negotiations as well as freeze pre-accession financial assistance and talks on deepening trade cooperation.
The European Parliament has also passed a nonbinding resolution to end accession talks.
The crisis in EU-Turkey relations is a symptom of Turkey's drift away from the West, not only in terms of values but also in its foreign policy.
US-Turkey relations soured following Barack Obama's decision to back Syrian Kurds against ISIS in 2014. The Syrian Kurds are linked to the Turkish Kurdistan Workers' Party, or PKK, which has fought a guerrilla conflict against the Turkish state since the 1980s.
The Turkish government has accused the United States of being behind the failed coup and criticized its refusal to extradite Fethullah Gulen, the Muslim cleric exiled in the United States who is a former close ally-turned-leading critic of Erdogan.
In July, Turkish state TV revealed the location of US secret positions in Syria, and earlier this month, Turkish authorities arrested some US Consulate employees in Turkey. That move prompted the United States to stop issuing visas to US citizens, and Turkey retaliated in tit-for-tat fashion.
Warm words from President Donald Trump toward Erdogan have not helped, and relations are unlikely to thaw while the Washington continues to support the Kurds in Syria. Amid the antipathy with the West, Turkey has pivoted to Moscow. In September, it signed a deal to purchase an S-400 air defense system from Russia, rather than seek an alternative that was interoperable with its NATO allies.
Against this backdrop, it is easy to see why it would be tempting for the EU to suspend accession negotiations with Turkey. But this would be counterproductive. The talks, which began in 2005, are already de facto frozen. Formally acknowledging this without putting an alternative framework in place would push Turkey even further away from the West. Keeping the negotiations alive maintains the hope that Turkey's governance may one day return to a European path.
The EU should instead make Turkey an ambitious alternative offer of cooperation, including greater access to its market in both goods and services and increased labor mobility.
The proposal should be tied to strict conditionality, as an original customs union arrangement was in the mid-1990s. Such a proposition would stand little chance if the accession process was simultaneously taken off the table, so it would initially have to run parallel to it. If at some stage negotiations on the new partnership made good progress, then the accession process could be terminated.
Should the EU develop several tiers of membership, as some expect, Turkey could one day find a home in an outer ring, which would allow for valued cooperation on migration, counterterrorism and commerce.
The EU has more leverage on Turkey than vice versa. Good diplomatic and economic relations with the EU are in Turkey's self-interest -- and Erdogan's domestic popularity rests on Turkey's economic success.
A further deterioration of the rule of law and political instability is likely to unsettle international investors. Erdogan said this month that Turkey no longer needs to join the EU, but it won't be the one to break off the accession talks.
Ultimately, a constructive EU-Turkey agenda can only develop if Turkey alters its current course. Suspending accession talks will not help to heal the rift. Instead, the EU would do well to look past the stasis and attempt to develop new ways of working together.
Luigi Scazzieri is a research fellow at the Centre for European Reform.