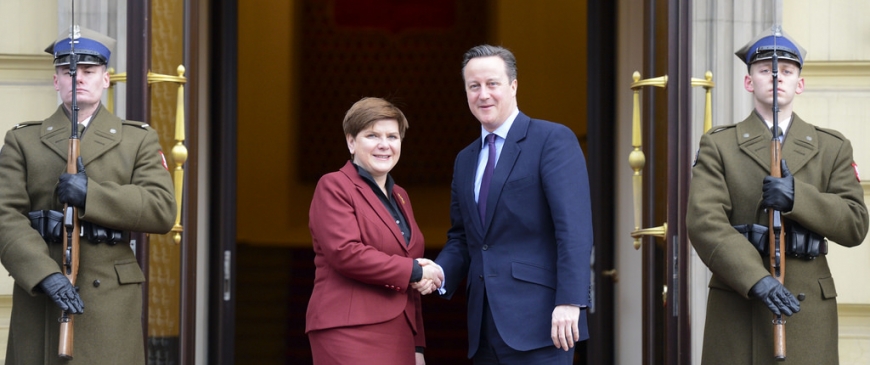 What would Brexit mean for Poland?
For the last nine years Polish and British experts, officials and politicians have met in Krakow annually to discuss their countries' visions for Europe. In 2013, Timothy Garton Ash, the inspiration behind these Polish British Round Tables, wrote that the British-Polish relationship was like two spitfires flying in different directions: Warsaw headed for Berlin and the heart of the EU, and London away from Europe and towards the Atlantic.
The new right-wing Law and Justice government in Poland has changed course, however. Warsaw under the current leadership sees London—rather than Berlin—as its key ally in the European Union, and it opposes Germany's vision of further political integration of the EU. In his first annual address on the government's foreign policy priorities, Foreign Minister Witold Waszczykowski said that the EU "should go back to its roots" and focus on completing the single market (for example, removing the remaining barriers to trade across Europe). This will sound familiar to anyone who has heard David Cameron or Philip Hammond in the House of Commons. But does it mean that Poland could, like Britain, decide to turn its back on the EU and leave?
Probably not, or at least not yet. The Law and Justice party is not keen on Brussels but still thinks that on balance Poland benefits from its EU membership, especially when it has countries like Britain on its side. Brexit would be therefore a blow to the Polish government and its position in the EU.
In the European Parliament, Law and Justice belongs to the same political group as the Tories, the European Conservatives and Reformists. Many of the group's most influential figures in the Parliament are British. Polish MEPs would at best need time to fill the gap left by the Conservatives. Brexit could also lead to Warsaw's isolation in the European Council. The Law and Justice government has alienated many of Warsaw's traditional partners by picking fights with the country's Constitutional Court and by pushing through controversial changes to increase state control of the media (as detailed in Prospect's recent cover piece.) In January 2016 the European Commission opened an investigation of Poland's compliance with EU rule of law standards; Brussels is worried that Law and Justice's illiberal reforms could undermine democratic checks and balances in Poland.
Warsaw hopes that David Cameron will side with Poland in this political row. Both Warsaw and London see the Commission's action against Poland as another example of Brussels' over-reach. When the European Parliament President, Martin Schulz, lectured Beata Szydło, the Polish Prime Minister on the rule of law at the European Council meeting in March 2016, it was reportedly only David Cameron and Hungary's Prime Minister, Viktor Orbán, who stood up for her. Were Britain to leave the EU, Poland would find it much harder to resist pressure from Brussels. Viktor Orbán's Hungary is a close ally of Law and Justice, but he also has limited political clout. Orbán has had his own problems with the EU over illiberal reforms, and angered his European partners further by building a fence to keep refugees out of Hungary and announcing a referendum on whether to accept the Commission's plans to relocate and resettle refugees in EU member-states, including in Hungary.
There is little Warsaw can do to influence the popular debate in the UK on whether to stay or leave the EU. But in the event of a vote to leave, Poland could put extra effort into helping post-Brexit Britain negotiate a good deal on its future relations with the EU. The Law and Justice government may think that post-Brexit Britain could still be of help in promoting Warsaw's vision of Europe as long as London can maintain close ties with the rest of the EU.
But there would be limits to Poland's flexibility. Poland is the largest beneficiary of EU funds; Britain is a net contributor. In return for access to the single market the Polish government would probably expect Britain to keep paying into the EU budget, though perhaps at lower levels. Poland would also be reluctant to compromise on the principle of free movement of EU workers if Britain wanted to continue to enjoy the advantages of the single market.
True, Law and Justice would like Polish workers, which are the largest group of EU nationals in the UK, to eventually return home, and has increased benefits for families with children to try to attract them back. But this doesn't mean it would actively support British attempts to curb EU migration. Such attempts would antagonise its own citizens who see free movement as an EU success story.
Whatever direction the Polish Spitfire is now headed towards, post-Brexit Britain should not bank on a free ride.