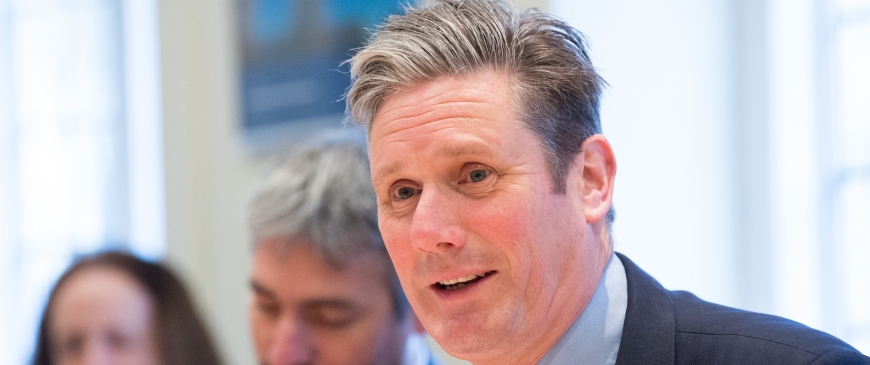 Why Keir Starmer must revamp Labour's trade strategy
The world is facing a combination of US-China trade wars and new export restrictions on essential supplies thanks to Covid-19. Added to that the British government is in the process of Brexit. All that makes trade policy a central issue. It is more important than ever that the Labour Party, under new leader Keir Starmer, develops a considered and principled strategy for international trade so that it can effectively hold Prime Minister Boris Johnson to account.
A positive agenda
Under Jeremy Corbyn's leadership, Labour's approach to trade was informed by a general hostility to globalisation, political opportunism and, at times, blatant anti-Americanism. While this approach may have had political supporters, it is not sustainable in the long-run.
Openness to trade is not inherently right or left wing. The movement of goods, services, ideas and people is no obstacle to social democracy and low barriers to trade are entirely compatible with an efficient and substantial welfare state, stockpiling of essential provisions, government investment and an effective industrial policy. Within the EU it is notable that some of the most vocal proponents of free trade include countries which spend a larger proportion of GDP on social welfare than the UK, such as Denmark, Sweden and Finland.
Further afield, New Zealand, under the current Labour prime minister Jacinda Ardern, has both launched a trade initiative to ensure medical supply chains are kept open in the wake of Covid-19, and begun negotiations on the Agreement on Climate Change, Trade and Sustainability (along with Costa Rica, Fiji, Iceland and Norway), which aims to remove barriers to trade in environmental goods and services and, significantly, develop disciplines to eliminate fossil fuel subsidies.
With that in mind, beyond reacting defensively to every government pronouncement, Labour's new leadership should be asking itself again how trade can be used to help deliver the party's broader economic, environmental, development and social objectives. In short, it needs a fresh plan.
Protectionism ≠ resilience
The Covid-19 fallout has led many to question the make-up of the global economy, particularly the continued viability of international supply chains and just-in-time manufacturing, which sees companies attempt to reduce costs and production time by only producing products in precise quantities, when and where they are needed. The Labour leadership will be tempted to pander to the protectionist wing of the party, and push for tariffs and controls designed to encourage the onshoring of manufacturing into the UK. But if the ultimate ambition is to ensure that the UK is well situated to weather future shocks of a similar magnitude, then erecting new barriers to imports is not the solution.
If there is one thing that the Covid-19 pandemic has clarified it is that imports (in this case of personal protective equipment and medicines) really are just as important as exports. Resilience, in this case, requires not only ensuring that there is sufficient domestic manufacturing capacity that can be mobilised in a crisis, but also making it as easy as possible to source vital products, goods, people and ideas from anywhere in the world. That requires pulling down barriers to trade, not putting them up. Being overly reliant on one country for the supply of vital products leaves you vulnerable, whether that one country is the UK or China.
Protectionist measures can also have unintended consequences—EU-wide export controls on medicine and medical equipment have the potential to leave poor countries vulnerable to Covid-19 because they are so reliant on Europe for PPE, for example.
Beyond Brexit and Trump
Prioritising a closer trade relationship with the EU than that currently envisioned by the government remains a laudable objective, but it does not give Labour a free pass to oppose out of hand every other initiative. Switzerland and Norway, two countries with deep economic ties to the EU, still operate their own trade policy, and enter into free trade agreements with countries that have not yet done so with the EU. Even were the UK to eventually enter into a customs union with the EU, it would still need to negotiate parallel agreements with blocs such as the South American trade bloc Mercosur and countries such as Singapore, Vietnam, and, in the future, potentially Australia, New Zealand and the US.
When it comes to Donald Trump, if he wins the November presidential election, that will surely provide ample opportunity for Labour to attack the government during its trade negotiations with the US. But what if he doesn't? Beyond headline-grabbing, misleading claims that the US wants to privatise the NHS, what would Labour like to see in a free trade agreement with the US?
It is entirely plausible that a Biden-led US would roll back from US demands impacting on the price of medicine; Democrats in Congress recently stripped out provisions from the US-Mexico-Canada free trade agreement that could have unduly delayed the introduction of generic alternative medicines. If the issues that Labour have highlighted to date go away, what then? There are lots of good reasons for the UK to do a free trade agreement with the US, and these should be considered. Are there any circumstances in which Labour could support such a deal, and if not, why not?
Beyond Trump, a post-Brexit UK still needs to replace free trade agreements it was previously party to as an EU member such as those with Canada, Turkey (currently in a customs union with the EU and Japan. The government has also indicated it will seek to conclude trade agreements with Australia and New Zealand as soon as possible. Again, there are lots of very good reasons why these trade agreements should go ahead, so what does Labour want to see included and excluded?
None of these questions have easy answers, but the sooner Labour starts addressing them, the better.
Sam Lowe is a senior research fellow at the Centre for European Reform.