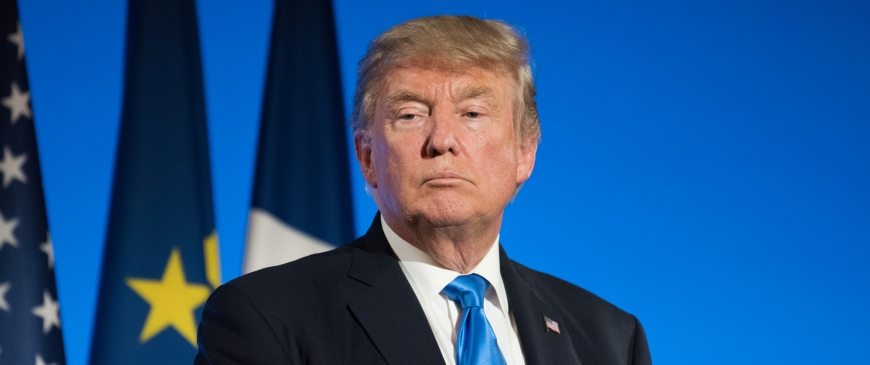 As a former diplomat to the US, I know how Britain needs to respond to Trump after his Iran deal decision with realism
European leaders have to deal with the president they have, not the one they wish they had.
Donald Trump must like annoying America's allies – he does it so often. His latest offence is to announce that the US is pulling out of the Joint Comprehensive Plan of Action (JCPOA) – the deal to freeze Iran's nuclear weapons programme in return for lifting economic sanctions.
Since his inauguration in January 2017, Trump has withdrawn from the Paris climate change agreement and the 12-nation Trans-Pacific Partnership free trade agreement, and threatened to withdraw from the North American free trade agreement with Canada and Mexico and from the World Trade Organisation. Thanks to Trump, European steel and aluminium producers could find themselves facing tariffs on spurious grounds of national security (as though importing aluminium from Ireland might imperil US security).
Meanwhile, Trump has kept up a regular stream of criticism of Nato, including suggesting that the US might not defend an ally under attack if Trump thought they were not spending enough on their own defence. If Trump writes a sequel to The Art of the Deal, it will presumably be The Art of Breaking the Deal.
European leaders must yearn for the return of normality in the transatlantic partnership. But they have to deal with the president they have, not the one they wish they had. In the past month, Emmanuel Macron and Angela Merkel have both visited Washington DC for discussions with Trump on Iran, trade and other issues. Neither of them, nor Britain's foreign secretary, Boris Johnson (who went on Trump's favourite television programme in an effort to make his case), could dissuade Trump from pulling out of the JCPOA.
In a couple of months it will be Theresa May's turn to encourage Trump to pay more attention to his allies' views, when he visits London. Though Trump said that Theresa May would be his Margaret Thatcher, it's unlikely that No 10 will have any more sway with him than Macron or Merkel have. Still, May and other European leaders need to continue their efforts, with flattery if need be.
The transatlantic partnership is too important to allow it to stagnate till Trump leaves office. Indeed, with Trump in the White House, Europeans should turbo-charge their efforts to reach out to America.
Senior EU officials like European Council President Donald Tusk and European Commission President Jean-Claude Juncker should not be afraid to pick up the phone to Trump or his top advisers to discuss important issues – including, for example, explaining the damage that US industries would suffer in a transatlantic trade war. For all Trump's "America First" rhetoric, the reality is that the transatlantic economic relationship is crucial to the prosperity of both the US and EU.
Europeans also need to do more to engage with US priorities outside Europe, particularly in Asia. On defence, Trump is right to complain that they do not spend enough on conventional defence capabilities: Europe should start pulling its weight in Nato.
To build public support for doing more with America to tackle defence and international security challenges, European voters need to be persuaded to see America in a broader context and look beyond Trump's latest tweet. The more Europeans have contact with a broad range of Americans, not just Trump on TV, the more likely they are to see what they have in common.
The US should reach out to the widest possible audience in Europe, especially those who are hostile to the current administration. Key to this is enhancing bilateral contacts at all levels – from traditional diplomacy to student scholarships. The latter are even more important given the Trump administration's efforts to cut annual budget for cultural and educational exchanges – even if the US congress has so far wisely resisted these cuts.
Europe should not leave the US to invest in transatlantic ties on its own. European countries and the EU should target public opinion in the US with collective as well as national messages stressing the continued value to America of having allies and partners. They should not limit their targets to Washington and New York. And even more importantly, European politicians should remind their own constituents of the importance to Europe of a strong transatlantic economic and security partnership – something that will out-last Trump.
Even if American politics returns to the mean after Trump, the damage he is doing to transatlantic trust and international institutions may take a long time to repair. But the worst thing Europeans can do is try to separate themselves from America. The underlying interests of the West have not changed, but they are much harder to pursue when the US and its democratic allies are at each other's throats. Trump's JCPOA decision may hasten the arrival of an Iranian nuclear weapon; it shouldn't be allowed to blow up the transatlantic partnership.
Ian Bond is a former British diplomat who served in Washington and currently the director of foreign policy at the Centre for European Reform, a think-tank based in London and Brussels.