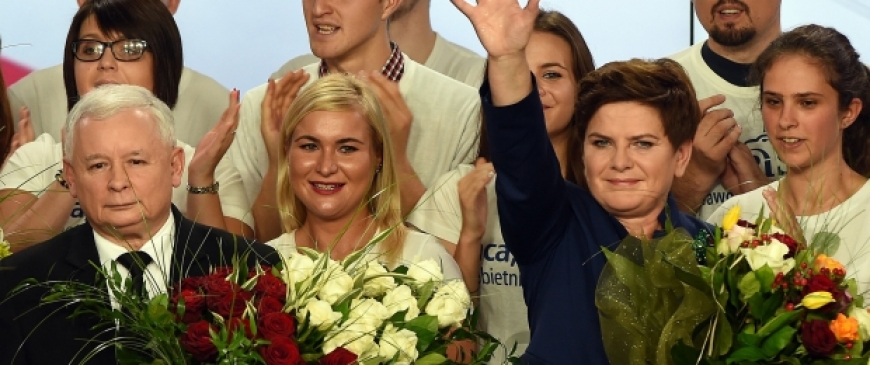 Changing the guard in Poland but not much change for Cameron?
In Sunday's general election in Poland, voters decisively rejected the previous centre-right coalition government in favour of Law and Justice (PiS) – a party which is socially conservative but economically left-leaning. Its electoral victory is likely to lead to a departure from the country's consensual style in the EU. Among other things, this could complicate the prospects for agreement on how to deal with the refugee crisis in Europe. It could also threaten the hopes of the British prime minister, David Cameron, for a quick deal on EU reform: Law and Justice may try to use the British renegotiation to unpick what it does not like in the current EU agenda.
Law and Justice won almost 38 per cent of the vote; only 24 per cent favoured the status quo and voted for Civic Platform (PO) – the party of European Council president Donald Tusk, which led a coalition government for the last eight years. Law and Justice will have 235 MPs in the 460 seat 'Sejm' (the lower chamber of the Polish parliament). This ten-seat majority allows Law and Justice to govern alone. But such a narrow majority could make the government vulnerable to internal squabbles, so the party may well try to persuade individual MPs to swap parties. In the Polish electoral system MPs can change their party allegiance without triggering a by-election. The natural candidates are MPs from 'KUKIZ 15', a populist right-wing party. Other parties which will be represented in the Sejm include 'Nowoczesna', a liberal party; and the Polish Peasant Party, which was in coalition with Civic Platform.
Chart 1: Distribution of seats in Polish Sejm by party
Source: Polish Electoral Commission
The international media have widely portrayed the Polish elections as a victory for an anti-EU party. But Law and Justice does not oppose European integration per se, although it criticises the current institutional balance of powers in the EU. It thinks that the European Commission has interfered too much in the domestic policies of member-states. And it dismisses the last government's European policy as too submissive to Brussels and Berlin. All in all, there is unlikely to be a revolution in Poland's European policy, but the new Polish government will become more assertive. When it was in government between 2005 and 2007, Law and Justice proved to be a difficult partner for the rest of the EU. Jarosław Kaczyński (the party's leader, who was then Poland's prime minister) made life miserable for Angela Merkel and complicated Germany's efforts to obtain a consensus around the Treaty of Lisbon in 2007. There is no evidence that this time Law and Justice will be any more co-operative.
How did #CivicPlatform, which presided over robust economic growth, get ousted in PL elections?
Civic Platform's poor electoral performance has surprised some foreign commentators. Politically, the party transformed Poland from a junior partner in the EU to a credible and well-established member. Economically, the last government presided over robust economic growth – Poland avoided a recession both during the 2008 financial crisis and the subsequent euro crisis (see Chart 2), and its economy grew by 29 per cent in the last eight years. This strong economic performance made Poland more influential in the EU.
Chart 2: Quarterly GDP growth
Source: Haver, Eurostat
But in Poland, the electoral defeat of Civic Platform surprised few. The party was a good administrator of EU structural funds; EU money has helped to modernise the country substantially. For many Poles, the economic growth has not, however, immediately translated into living standards comparable with those in Western Europe. On average, Poles are still worse off financially than their Western counterparts: real consumption per capita in Poland is still lower than the EU average (see Chart 3). Many voters felt that Civic Platform was more interested in consolidating its power than in trying to respond to the concerns of the average Pole. When prominent Civic Platform politicians were illegally recorded discussing state business in crude terms over expensive dinners, it only contributed to the view that Civic Platform was the party of the elite.
These blunders played into the hands of Law and Justice, which positioned itself as the party of all Poles. Beata Szydło, the party's candidate for prime minister, promised that her government would lower the retirement age, introduce more generous family benefits, and give tax rebates for small businesses. It hopes to finance part of its electoral pledges by imposing a special turnover tax on large retailers, which are largely foreign owned, and on banks. This time, Law and Justice managed to attract voters from all walks of life: from rural and urban areas, with low and high levels of education. By contrast, in the 2011 parliamentary elections residents of the largest cities and people with higher education supported Civic Platform more than Law and Justice.
Chart 3: Real consumption expenditure per capita (in PPS)
Source: Eurostat
Notes: The purchasing power standard (PPS) allows for comparisons across countries with different currencies. The consumption expenditure is measured as actual individual consumption (AIC), which consists of private consumption but adds services consumed by households that are provided by the government or non-profit institutions.
The implementation of Law and Justice's electoral promises could have repercussions both domestically and on the European stage. Since Poland's accession to the EU in 2004, the stock of net foreign direct investment has grown by €100 billion. Measures like the proposed turnover tax could reduce foreign investment in Poland, and may be illegal under EU law.
Law and Justice's policies could also put Poland's public finances at risk. The Civic Development Forum, a foundation established by Leszek Balcerowicz, the finance minister in the first post-communist government and architect of Poland's 'shock therapy' reforms, argues that implementation of all the electoral pledges of Law and Justice would cost 138 billion zlotys (€34.5 billion); Civic Platform's proposals would cost only 21.5 billion zlotys (€5.3 billion).
According to recent analysis by Erste Group Research, Law and Justice will either have to be more restrained in implementing its policies or it may risk the European Commission initiating the excessive deficit procedure against Poland. The Commission steps in when an individual member-state is at risk of breaching or has already breached the deficit threshold of 3 per cent of GDP, or when its government debt level is above 60 per cent and is not falling at a satisfactory pace (5 per cent per annum on average over three years). In its programme in 2014, Law and Justice strongly opposed the Commission's interference in Poland's budget. Any action by the Commission to initiate an excessive deficit procedure against Poland could thus reinvigorate eurosceptic sentiments among party's members.
Law and Justice opposes what it thinks is the Commission's unnecessary zeal in other areas. It heavily criticised the Commission's scheme to relocate refugees. It condemned the outgoing government for voting in favour of the Commission's proposal and for abandoning the Czech Republic, Hungary and Slovakia, its partners in the so-called Visegrad Four, who opposed it. Law and Justice at times used unpleasant anti-immigration rhetoric during the electoral campaign, and the next government will almost certainly oppose any proposals to create a permanent mechanism for redistributing refugees.
The refugee issue could lead to tensions not only between Warsaw and the Commission but also with Berlin: Chancellor Angela Merkel supports a more ambitious EU policy towards the refugee crisis. Germany is set to receive more than 800,000 asylum seekers this year, and wants a European solution to what it sees as a European problem. Angela Merkel's legacy will depend partly on whether she achieves this objective: if the new Polish government decided to stand in her way this could damage Polish-German relations, which under the last government were better than at any point since World War II.
Germany has also helped Poland to navigate through a multi-tier EU, hoping that it would join the eurozone club in the future. Warsaw has successfully used its 'pre-in' status to secure a more inclusive 'euro plus' mode of governance. This would not have been possible without Berlin's support. But the new government may be less interested in maintaining this course. In its 2014 programme, Law and Justice pledged that it would keep the Polish zloty. A year later Beata Szydło promised to ditch the post of the official in charge of euro adoption in Poland and postpone discussion of joining the eurozone until the wages of Poles were similar to those of their colleagues in Western Europe.
The party's mistrust of the euro is good news for David Cameron. Part of the British prime minister's renegotiation agenda is to obtain safeguards for Britain and other euro-outs so that eurozone decisions cannot damage the single market. A Law and Justice government would probably show more understanding for Cameron's concerns than Civic Platform did. In 2007 the Polish government, led by Law and Justice, negotiated a mechanism to allow the EU to delay a decision if it threatens the interests of some member-states but they do not have enough votes in the Council to block it (the so called 'Ioannina bis' mechanism). Law and Justice may be willing to help Britain to revive this mechanism for euro-outs. As the CER has already argued, Law and Justice would probably also agree to strengthen the role of national parliaments, and might be more sympathetic to Cameron's plans to obtain an exemption from the goal of 'ever closer union'.
But will the new government obstruct Cameron's wish to limit EU migrants' access to welfare benefits? During the electoral campaign, Law and Justice blamed the previous coalition government for the emigration of young Poles to countries like Britain. The party pledged to create incentives for Poles not to leave Poland. At first sight, it looks as though Cameron's plans could dovetail with Law and Justice's objectives, making Law and Justice less critical than Civic Platform of British plans to curb in-work benefits for EU citizens. But in the 2015 presidential campaign Andrzej Duda, the Law and Justice candidate who eventually won the election, promised to nurture relations with the Polish diaspora. A Law and Justice government will continue this course and oppose changes which would discriminate between British and other European citizens. If the new government softened Poland's stance it would be criticised by Poles both abroad and at home.
Unless #Cameron is ready for a trade-off with Law & Justice he should get ready for a bumpy ride
The British may still think that Law and Justice will be, on balance, more supportive of Cameron's plans than Civic Platform. Law and Justice belongs to the same group in the European Parliament as the British Conservatives (the European Conservatives and Reformists Group). But British Tories should be wary of their new counterpart's transactional style. The party may see the British renegotiations as an opportunity to try to get concessions in completely unrelated areas of particular interest to Poland. One area they might target is EU climate policy, seeking concessions on emission targets, given Poland's heavy reliance on coal. However unlikely they are to get what they want, they could hold up the agreement Cameron needs. He should prepare for a bumpy ride when his reform package is discussed among EU leaders, including with the new Polish prime minister
Agata Gostyńska-Jakubowska is a research fellow at the Centre for European Reform.