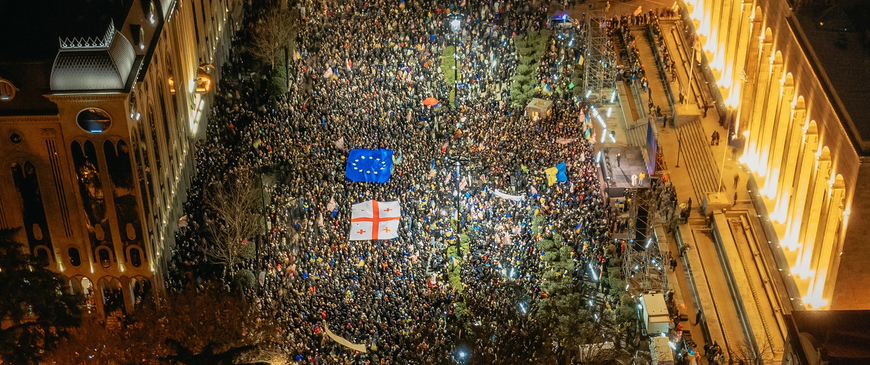 Note to the West: Help Georgia and Moldova as well as Ukraine
Georgia and Moldova face different problems, but both are vulnerable to Russian influence. While Putin is tied up in Ukraine, the West has an opportunity to weaken his position in Georgia and Moldova.
Last year the EU opened the door a crack to Ukraine and Moldova eventually joining the Union, with Georgia half a step behind them. The EU and the West must now help them deal with the obstacles to their further progress. The first priority must be to help Ukraine drive Russia out of occupied Ukrainian territory. But Moscow has also occupied parts of Georgia and Moldova for more than 30 years, and continues to hinder their economic and political progress. It is in the West's interest for them, as well as Ukraine, to become stable and prosperous members of the EU and potentially NATO. That will mean reducing Russia's leverage in both countries, and helping to increase their resilience to Moscow's influence.
EU membership has long been on the agenda of Georgia, Moldova and Ukraine, though not on the EU's. In 2014, following Russia's annexation of Crimea and its intervention in eastern Ukraine, all three signed association agreements with the Union, including deep and comprehensive free trade agreements (DCFTAs). But all three countries had a long list of 'homework' to do in order to align their legal systems and trade, labour and environmental rules and regulations with those of the EU, in order to get the full benefit of their DCFTAs – with no promise that alignment would ever lead to EU membership. In May 2021, the foreign ministers of Georgia, Moldova and Ukraine agreed to form the 'Associated Trio', a group to work together on closer integration with the Union, including through joint meetings with the EU.
EU membership has long been on the agenda of Georgia, Moldova and Ukraine, though not on the EU's.
Russia's 2022 attack on Ukraine short-circuited this process of gradual convergence, prompting all three countries to submit formal applications to join the EU. In June 2022, the European Council decided to give Ukraine and Moldova candidate status. It also agreed to give Georgia potential candidate status, while listing 12 areas, mainly relating to good governance and the rule of law, that needed improvement in order to obtain that status.   
Just before she took office as Commission president, Ursula von der Leyen spoke of building a "geopolitical commission". By deciding to remove the three countries from the post-Soviet grey zone and bring them into the EU's fold, the Union took a step towards her objective. But the prospect of membership at some indefinite point in the future does not solve the problems facing Georgia, Moldova and Ukraine today.
Ukraine inevitably gets the lion's share of Western attention, because of the war and because it is by far the largest of the trio. Before the war, Ukraine's population was almost 44 million; Georgia's was under 4 million and Moldova's just over 2.5 million. The difference in scale does not make Georgia and Moldova irrelevant, however. Georgia is important as a transit route for oil and gas from the Caspian Sea and Central Asia, but Russian troops occupying the South Ossetian region of Georgia control a short stretch of the pipeline exporting Azerbaijani oil via the Georgian port of Supsa to Europe. Moldova borders on EU and NATO member Romania and on Ukraine; and Russia has a small number of troops in the separatist enclave of Transnistria, less than 150 kilometres from Ukraine's main port, Odesa. 
Georgia
For a while, Georgia was the poster-child of successful transition in the post-Soviet space. Mikheil Saakashvili, who became president in 2004, turbo-charged economic reform and re-oriented Georgia towards the West. In particular, he helped make Georgia much less corrupt: by the time he left office in 2013, it had risen from 124th out of 133 countries in 2003 to 55th place out of 175 in Transparency International's Corruption Perceptions Index. By 2022, Georgia's ranking had improved even further, to joint 41st place out of 180 (level with the Czech Republic, Italy and Slovenia, and above nine other EU member-states).
For a while, Georgia was the poster-child of successful transition in the post-Soviet space.
But in 2008 the mercurial Saakashvili unwisely responded to repeated Russian provocation and attacked Russian forces in South Ossetia, a region of Georgia controlled by Russian-backed separatists since the early 1990s, giving Russia the pretext to invade Georgia. After a ceasefire brokered by French president Nicolas Sarkozy (then holding the EU presidency), Georgia lost all remaining influence in South Ossetia and Abkhazia (another region controlled by Russian-backed separatists), which became de facto Russian protectorates.
In 2012, Saakashvili's party lost power in parliament to the 'Georgian Dream' party assembled by wealthy businessman Bidzina Ivanishvili, and in 2013 Saakashvili himself was replaced by a president backed by Georgian Dream. Since then, Georgian Dream, manipulated from behind the scenes by Ivanishvili, who has no formal role in the government or the state, has monopolised power in Georgia. After disputed parliamentary elections in 2020, the opposition boycotted parliament for some months until European Council president Charles Michel brokered a deal with Georgian Dream; but neither side has fully respected its provisions, including an end to politicised criminal cases and an end to parliamentary boycotts. Saakashvili himself was imprisoned, on charges of abuse of office, when he returned to Georgia in 2021 after a spell working in Ukraine; he remains in prison, and apparently in poor health, despite appeals from the EU and others to the Georgian authorities to release him.
While the Georgian Dream government claims to be pursuing EU (and NATO) membership, its actions call this into question. In February 2023 the Commission reported no progress on the 12 conditions set for Georgia to advance to EU candidate status, and also noted that Georgia was aligning itself with a declining number of EU foreign policy statements and actions, including sanctions on Russia.
The Georgian government's political discourse has become more hostile to the EU and its values. In March 2023, Georgian prime minister Irakli Garibashvili criticised MEPs for calling for Saakashvili's release and claimed that they and the Georgian opposition were trying to drag Georgia into war with Russia. He had previously defended moves by the government to increase trade with Russia. There is some evidence that Russia is now using Georgia as conduit for imports of sanctioned goods from the West. The government also put forward legislation, modelled on similar Russian regulations that have been used to suppress criticism there, to make civil society organisations that received funds from foreign donors, including the EU, register as 'foreign agents' – though large-scale street protests later forced the government to back down.
The West's greatest ally in aligning Georgia with Western values and interests is the Georgian population. Public opinion there has consistently been among the most pro-EU and pro-NATO in the former Soviet Union: opinion poll data from December 2022 showed 81 per cent in favour of EU membership, with 9 per cent against, and 73 per cent in favour of NATO membership, with 14 per cent against. The West should therefore aim to enhance the influence of the population over the government and undermine the power of Ivanishvili and those close to him.
So far, Ivanishvili has been able to wield power in Georgia without any accountability. If the country is to move forward, this needs to change. The US has imposed visa bans on four Georgian judges on the basis of their corruption; some of them are reportedly closely connected to Ivanishvili. Despite repeated calls from the European Parliament for sanctions to be imposed on Ivanishvili himself, however, the EU has held back. It is time for the Union to consider visa restrictions or asset freezes, where there is evidence of influential Georgian figures' involvement in corruption or sanctions violations to the benefit of Russia.
The West should also increase its engagement with the government, the opposition and civil society organisations in Georgia. The visit by James Cleverly on March 17th was a welcome step, but it was the first by a British foreign secretary in seven years. France has had a more intense programme of visits – perhaps because the Georgian president, Salome Zourabichvili, was once a French diplomat. The latest senior visitor from the EU was Charles Michel, in 2021. NATO Secretary General Jens Stoltenberg has not visited since 2019.
The most important goal of high-level visitors should be to nudge the Georgians towards less polarised politics – the first of the 12 conditions laid down by the Commission if Georgia is to receive candidate status. Many of the other conditions – on the proper functioning of state institutions, judicial reform or media pluralism – are unlikely to be met if government and opposition both see weakening their opponents as the most important objective in politics.
The strongest tool that the EU has to encourage depolarisation is the prospect of Georgia's eventual EU membership. For now, the parties in Georgia see this as such a remote possibility that it is not worth compromising with their opponents to gain candidate status. Without relaxing the 12 conditions, the EU has to persuade all sides in Georgia that once negotiations start, the rate of progress in them will depend only on the pace of Georgia's reform efforts. If that still leaves accession a long way off, the EU should consider 'gradual integration' to reward candidate countries for meeting reform benchmarks, as my colleague Luigi Scazzieri argued last year.
At the same time, the West needs to show that it can ensure Georgia's security if it turns Westwards again and rejects Russian influence. Garibashvili's claim that the West wants to open a second front in Georgia implies that the country is currently at peace. In reality, though there has been no active fighting over the last 15 years, Russian forces have continued to move forward the boundary fences around South Ossetia, taking over more Georgian territory since 2008. The unarmed EU Monitoring Mission (EUMM) in Georgia has been unable to stop them. The EU should offer the Georgian government an armed Common Security and Defence Policy (CSDP) operation to replace the EUMM and help Georgia challenge Russian advances. NATO should be willing to increase its training and other support to Georgia if the government asks for help. Even if recovery of the occupied territories is a remote possibility, the EU and NATO should ensure that Russia is deterred from advancing any further.   
Moldova
Moldova's persistent security problem is the presence of about 1,500 Russian forces and a large quantity of Soviet-era munitions in the separatist enclave of Transnistria, on the left bank of the Nistru river. Even before the break-up of the Soviet Union in 1991, separatists declared the region, bordering Ukraine, independent of the Moldavian Soviet Socialist Republic. After the break-up, Russian forces ensured that Transnistria remained outside Moldovan government control.
Moldova's location and the presence of Russian forces on its territory make it more important to the EU and NATO than its size would otherwise warrant – particularly in the context of Moscow's war against Ukraine. But if the population in Georgia is the West's greatest ally, in Moldova citizens are more ambivalent about the country's orientation. In an opinion poll in November 2022, only 63 per cent supported EU membership, either strongly or somewhat; 33 per cent opposed it. Asked what the best guarantee of security for Moldova was, 59 per cent said it was neutrality; 9 per cent thought it was the EU; 8 per cent thought it was Russia; and 7 per cent thought it was NATO. The pro-EU president, Maia Sandu, a former World Bank official, is the most trusted politician, on 26 per cent. But Sandu's pro-Moscow predecessor as president, Igor Dodon, is second on 19 per cent, followed on 13 per cent by Ilan Shor, a pro-Moscow businessman sanctioned by the US and UK, who was involved in a bank fraud and bankruptcy that Moldova had to spend an eighth of its GDP to resolve in 2014.
Moldova's location, and the presence of Russian forces on its territory, make it more important to the EU and NATO than its size would otherwise warrant.
If the West wants Moldova in its camp, rather than as a potential foothold for Russian trouble-making in south-eastern Europe, then the EU in particular needs to show the Moldovan population that getting closer to the Union has concrete advantages. Offering access to the EU labour market will not be enough: more than half of Moldovans already have that, having acquired Romanian passports, so the Union needs to advertise other benefits. The EU has already prompted reform of Moldova's energy markets, enabling it to end its reliance on Russian supplies. The country is now connected to the European electricity grid and able to purchase gas through the EU Energy Platform – a scheme for collective purchases of gas ­– reducing Russia's future leverage. The EU has also increased its humanitarian aid, project funding, budget support and macro-financial assistance to Moldova, though the total package remains comparatively small: around €1.09 billion over the last two years.
Moldova's security and armed forces are very weak and need more training and equipment to enable them to deter Russian efforts to destabilise the country. NATO's relationship with Moldova, which had been low-key because of Moldova's constitutional neutrality, has changed dramatically since February 2022. The Moldovans now want to engage with the EU and NATO on security issues. The two organisations are co-operating to assist Moldova, including in dealing with hybrid threats and cyber-attacks. They should step up their joint efforts to ensure Moldova's security and stability. Last year €47 million from the EU's European Peace Facility enabled Chișinău to double its defence budget, but more needs to be done.
Russia's 2022 invasion of Ukraine has created great dangers for Moldova, but also opportunities. On the negative side, Moldova was almost overwhelmed by the flow of refugees from Ukraine in the early stages of the war: 800,000 refugees entered the country, though only around 106,000 now remain. Russia cut gas supplies to Moldova and Transnistria, causing economic hardship and inflation of over 30 per cent. This sparked protests against Sandu and the pro-EU government – the protests were allegedly also subsidised by Russia via Ilan Shor's party. After reports from Ukrainian intelligence in February 2023 that Russia was plotting a coup to overthrow Sandu, a number of foreign citizens were prevented from entering Moldova, at least two foreigners were expelled and seven people were detained.
On the positive side, however, the war has cut off Transnistria from Russia: the enclave is no longer accessible by air or land, except via Moldova. Transnistria's business model, which relies on a mixture of smuggling and legitimate trade, including with the EU, has been disrupted. That has forced Vadim Krasnoselsky, the leader of the separatist regime, to talk to the Moldovan government. In effect, whereas Transnistria's political existence depends on Moscow's intelligence and criminal circles, from which it is now more isolated, its economic survival depends on Chisinau. That might give the Moldovan authorities the opportunity to negotiate a re-unification deal with Transnistria, while Russia's opportunities for effective disruption of Moldova's politics are reduced. The EU should back Moldovan authorities, including with an assistance package to support political and economic reform in Transnistria, if the government judges that this is the moment to intensify discussions with Transnistria. Many of the remaining Russian forces in Transnistria are locally recruited and could be paid off and re-integrated into civilian life; a CSDP operation could help to ensure that regular Russian officers left the country peacefully.
Conclusion
If the outcome of the war is that Ukraine is forced to concede more of its territory to Russia, then Russia's power and influence in Europe will grow dramatically, notwithstanding its human and material losses in the war. The independence of Georgia and Moldova will be under direct threat. But while Moscow's attention is elsewhere, the West has the opportunity to weaken its influence in the two countries, bringing security benefits for them as well as for the West in the Black Sea region and in south-eastern Europe.
While Moscow's attention is elsewhere, the West has the opportunity to weaken its influence in Georgia and Moldova.
It might be tempting for the EU and Western countries more generally to ignore Georgia and its annoying government, and Moldova and its eurosceptic population, and focus on the immense task of rebuilding Ukraine and bringing it into the EU and (if possible) NATO. But the long-term stability of Eastern Europe and the Caucasus will be better served if the West continues to think more geopolitically, and invests in keeping Georgia and Moldova out of Putin's clutches. 

Ian Bond is director of foreign policy at the Centre for European Reform.